Effects of 0-licensing
30th April 1971
Page 32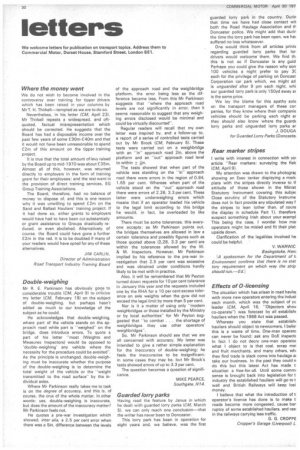 Page 32, 30th April 1971 —
Effects of 0-licensing
Close
The situation which has arisen in road haulai with more new operators entering the indust each month, which was the subject of yc leader (CM, April 16, "Objectors shou co-operate") was forecast by all establish( hauliers when the 1968 Act was passed.
Whereas you state that establish( hauliers should object to newcomers, I belie, this is a waste of time. One-man operate can never be found: ask any DoE inspect( In fact I do not decry one-man operator what I object to is that coal, scrap mei and fruit merchants, and many others, whi they find trade is slack come into haulage ai take our business. In the past they could n do this but this latest Act has made t situation a free-for-all. Until some comm, sense is brought back into legislation for t industry the established hauliers will go to t wall and British Railways will keep losi money.
I believe that what the introduction of tl operator's licence has done is to make tl roads become more congested, cause ban ruptcy of some established hauliers, and real in the railways carrying less traffic.
G. G. CROPPE Cropper's Garage (Liverpool) L.