17th BRITISH COACH RALLY
30th April 1971
Page 30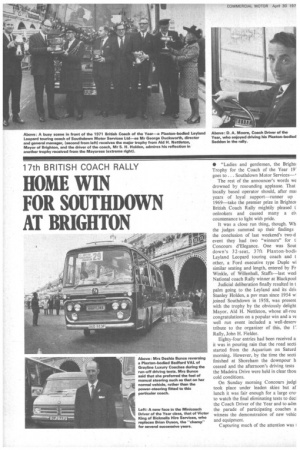 Page 31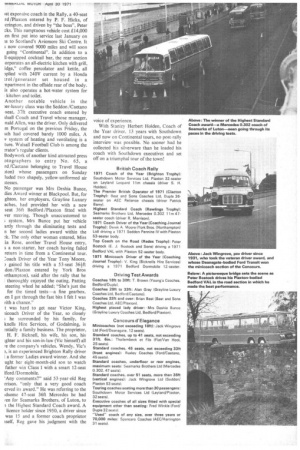 Page 30, 30th April 1971 —
17th BRITISH COACH RALLY
Close
HOME WIN FOR SOUTHDOWN AT BRIGHTON
• "Ladies and gentlemen, the Bright( Trophy for the Coach of the Year 19' goes to... Southdown Motor Services-2 The rest of the announcer's words we drowned by resounding applause. That locally based operator should, after mai years of loyal support—runner up 1969—take the premier prize in BrightOt British Coach Rally mightily pleased t onlookers and caused many a eli countenance to light with pride.
It was a close run thing, though. Wh the judges summed up their findings the conclusion of last weekend's two-d event they had two "winners" for t Concours d'Elegance. One was Sout down's 32-seat, 37ft Plaxton-bodil Leyland Leopard touring coach and t other, a Ford executive type Duple wi similar seating and length, entered by Fr Winkle, of Willenhall, Staffs—last wedl National coach Rally winner at Blackpool Judicial deliberation finally resulted in t palm going to the Leyland and its drir Stanley Holden, a psv man since 1954 w joined Southdown in 1958, was present with the trophy by the obviously delight Mayor, Ald H. Nettleton, whose all-mu congratulations on a popular win and a ve well run event included a well-deserv tribute to the organizer of this, the Y Rally, John H. Fielder.
Eighty-four entries had been received a it was in pouring rain that the road secti started from the Aquarium on Saturd morning. However, by the time the secti finished at Shoreham the downpour h ceased and the afternoon's driving tests the Madeira Drive were held in clear thou cold conditions.
On Sunday morning Concours judgi took place under leaden skies but af lunch it was fair enough for a large cm' to watch the final eliminating tests to deci the Coach Driver of the Year and to adm the parade of participating coaches a witness the demonstration of new vehic and equipment.
Capturing much of the attention was 1
ist expensive coach in the Rally, a 40-seat rd/Plaxton entered by P. F. Hicks, of :crington, and driven by "the boss", Peter cks. This sumptuous vehicle cost £14,000 len first put into service last January on is to Scotland's Aviemore Ski Centre. It 3 now covered 9000 miles and will soon going "Continental". In addition to a 11-equipped cocktail bar, the rear section orporates an all-electric kitchen with grill, idge," coffee percolator and kettle, all }plied with 240V current by a Honda trol /generator set housed in a ripartment in the offside rear of the body. is also operates a hot-water system for kitchen and toilet.
Another notable vehicle in the }er-luxury class was the Seddon /Caetano -seat, 37ft executive coach entered by gsall Coach and Travel whose manager, nald Allen, was the driver. Only delivered m Portugal on the previous Friday, the la had covered barely 1000 miles. A system of heating and ventilating is a ture. Walsall Football Club is among the !rator's regular clients.
Bodywork of another kind attracted press otographers to entry No. 65, a rd /Caetano belonging to Travel House aton) whose passengers on Sunday luded two shapely, yellow-uniformed air 3tesses.
No passenger was Mrs Deshia Bunce, dies Award winner at Blackpool. But, for ghton. her employers, Grayline Luxury aches, had provided her with a new • seat 36ft Bedford /Plaxton fitted with ver steering. Though unaccustomed to ; system, Mrs Bunce put her vehicle artly through the eliminating tests and n her second ladies award within the !k. The only other woman entered, Miss ia Rose, another Travel House entry, s a non-starter, her coach having failed return in time from a Continental tour.
:oach Driver of the Year Tony -Moore, ) gained his title with a 53-seat 36ift
don /Plaxton entered by York Bros irthampton), said after the rally that he I thoroughly enjoyed the outing. Patting steering wheel he added; "She's just the for the timed tests—a fine gearbox. en I got through the fast bits I felt I was vith a chance."
t was hard to get near Victor King, iicoach Driver of the Year, so closely ; he surrounded by his family, for knells Hire Services, of Godalming, is !tidally a family business. The proprietor, H. F. Bicknell, his wife, his son, his ighter and his son-in-law (Vic himself) all re the company's vehicles. Wendy, Vic's is an experienced Brighton Rally driver a former Ladies award winner. And she ugh her eight-month-old son to watch father win Class I with a smart 12-seat !ford /Dormobile.
'Any comments?" said 53-year-old Reg rrison, "only that a very good coach erved its award." He was referring to the idsome 47-seat 36ft Mercedes he had ,en for Seamarks Brothers, of Luton, to the Highest Standard Coach award. A licence holder since 1950, a driver since was 15 and a former coach proprietor 'self, Reg gave his judgment with the
voice of experience.
With Stanley Herbert: Holden, Coach of the Year driver, 13 years with Southdown and now on Continental tours, no post-rally interview was possible. No sooner had he collected his silverware than he loaded his coach with Southdown executives and set off on a triumphal tour of the town!
British Coach Rally
1971 Coach of the Year (Brighton Trophy): Southdown Motor Services Ltd, Plaxton 32-seater on Leyland Leopard 11m chassis (driver S. I-1. Holden).
The Premier British Operator of 1971 (Clacton Trophy): Best and Sons Coaches Ltd, Duple 36seater on AEC Reliance chassis (driver Patrick Barry).
Highest Standard Coach (Rawlings Trophy): Seamarks Brothers Ltd. Mercedes 0.302 11m 47seater coach (driver R. Merrison).
1971 Coach Driver of the Year (Coaching J ournal Trophy): Derek A. Moore (York Bros. (Northampton) Ltd) driving a 1971 Seddon Pennine IV with Plaxton 53-seater body.
Top Coach on the Road (Redex Trophy): Peter Bostook (E. J. Rostock and Sons) driving a 1971 Bedford VAL with Plaxton 52-seater body.
1971 Minicoach Driver of the Year (Coaching Journal Trophy): V. King (Bicknelis Hire Services) driving a 1971 Bedford Dormobile 12-seater.
Driving Test Awards
Coaches 18ft to 30ft: T. Brown (Young's Coaches, Bedford/Duple).
Coaches 29ft to 33ft: Alan Gray (Grayline Luxury Coaches Ltd, Beciford/Caetano).
Coaches 33ft and over: Brian Best (Best and Sons Coaches Ltd, AEC/Plaxton).
Highest placed lady driver: • Mrs Deshia Bunce (Grayline Luxury Coaches Ltd, Bedford/Plaxton).
Concours d'Elegance
Minicoaches (not exceeding 18ft): Jack Wingrove Ltd (Ford/Deansgate, 12 seats).
Standard coaches, up to 41 seats, not exceeding 31ft. 6in.: Thollembeck et Fils (Fiat/Van Wool. 25 seats).
Standard coaches. 45 seats, not exceeding 33ft (front engines): Ruxley Coaches (Ford/Caetano, 45 seats).
Standard coaches, underfloor or rear engines. maximum seats: Seamarks Brothers Ltd (Mercedes 0.302, 47 seats).
Standard coaches, over 51 seats, more than 36ft (vertical engines): Jack Wingrove Ltd (Seddon/ Plaxton 53 seats).
Touring coaches seating more than 30 passengers: Southdown Motor Services Ltd (Leyland/Plaxton, 32 seats).
Executive coaches of all sizes fitted with special equipment other than seating: Fred Winkle (Ford/ Duple 32 seats).
"Used" coach of any size, over three years or 70,000 miles: Spencers Coaches (AEC/Harrington 31 seats).