Transport studies at Bromsgrove College
30th April 1971
Page 28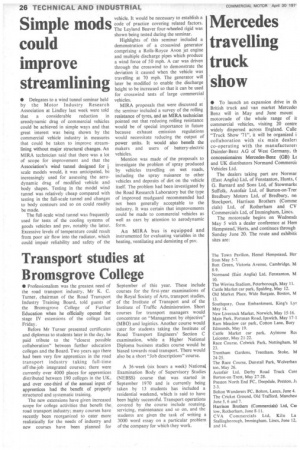 Page 28, 30th April 1971 —
Transport studies at Bromsgrove College
Close
• Professionalism was the greatest need of the road transport industry, Mr K. C. Turner, chairman of the Road Transport Industry Training Board, told guests of the Bromsgrove College of Further Education when he officially opened the stage IV extensions of the college last Friday.
Before Mr Turner presented certificates and diplomas to students later in the day, he paid tribute to the "closest possible collaboration" between further education colleges and the Board. Two years ago there had been very few apprentices in the road transport industry taking full-time off-the-job integrated courses; there were currently over 4000 places for apprentices distributed between 190 colleges in the UK, and over one-third of the annual input of apprentices had the benefit of properly structured and systematic training.
The new extensions have given increased scope for college activities that benefit the road transport industry; many courses have recently been reorganized to cater more realistically for the needs of industry and new courses have been planned for September of this year. These include courses for the first-year examinations of the Royal Society of Arts, transport studies, of the Institute of Transport and of the Institute of Traffic Administration. Short courses for transport managers would concentrate on "Management by objective" (MBO) and logistics. Another course would cater for students taking the Institute of Road Transport Engineers' Section C examination, while a Higher National Diploma business studies course would be biased towards road transport. There would also be a short "Job descriptions" course.
A 36-week (six hours a week) National Examination Body of Supervisory Studies (NEBSS) course that was started in September 1970 and is currently being taken by 13 students has included a residential weekend, which is said to have been highly successful. Transport operations covered by the course include routeing. servicing, maintenance and so on, and the students are given the task of writing a 3000 word essay on a particular problem ofthe company for which they work.