Simple mods could improve streamlinin
30th April 1971
Page 28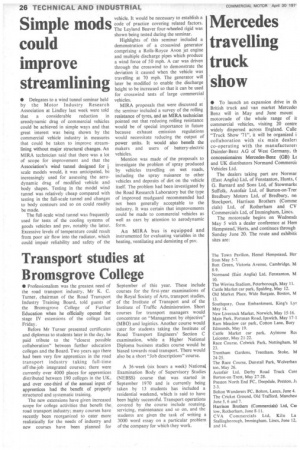 Page 28, 30th April 1971 —
Simple mods could improve streamlinin
Close
• Delegates to a wind tunnel seminar held by the Motor Industry Research Association at Lindley last week were told that a considerable reduction in areodynamic drag of commercial vehicles could be achieved in simple ways and that great interest was being shown by the commercial vehicle industry in measures that could be taken to improve streamlining without major structural changes. An MIRA technician said that there was a lot of scope for improvement and that the Association's wind tunnel designed for scale models would, it was anticipated, be increasingly used for assessing the aerodynamic drag of modified vehicle and body shapes. Testing in the model wind tunnel was relatively cheap compared with testing in the full-scale tunnel and changes to body contours and so on could readily be made.
The full-scale wind tunnel was frequently used for tests of the cooling systems of goods vehicles and psv, notably the latter. Excessive levels of temperature could result from poor air flow into the radiator, which could impair reliability and safety of the vehicle. It would be necessary to establish a code of practice covering related factors. The Leyland Beaver four-wheeled rigid was shown being tested during the seminar.
Highlights of this seminar included a demonstration of a crosswind generator comprising a Rolls-Royce Avon jet engine and multiple discharge pipes which produce a wind force of 50 mph. A car was driven through the crosswind to demonstrate the deviation it caused when the vehicle was travelling at '10 mph. The generator will later be modified to enable the discharge height to be increased so that it can be used for crosswind tests of large commercial vehicles.
MIRA proposals that were discussed at the seminar included a survey of the rolling resistance of tyres, and an MIRA technician pointed out that reducing rolling resistance would be of special importance in future because exhaust emission regulations would necessitate reducing the output of power units. It would also benefit the makers and users of battery-electric vehicles.
Mention was made of the proposals to investigate the problem of spray produced by vehicles travelling on wet roads, including the spray nuisance to other vehicles and deposits of dirt on the vehicle itself. The problem had been investigated by the Road Research Laboratory but the type of improved mudguard recommended had not been generally acceptable to the industry. It was certain that improvements could be made to commercial vehicles as well as cars by attention to aerodynamic form.
An MIRA bus is equipped and instrumented for evaluating variables in the heating, ventilating and demisting of psv.