Mercedes to sell 'transport systems'
30th April 1971
Page 26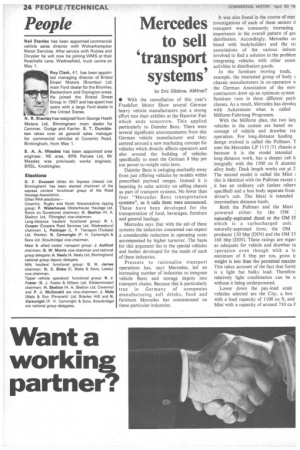 Page 27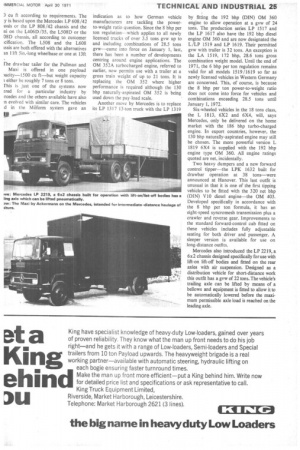 Page 26, 30th April 1971 —
Mercedes to sell 'transport systems'
Close
by Eric Gibbins, AMInstT • With the cancellation of this year's Frankfurt Motor Show several German heavy vehicle manufacturers put a strong effort into their exhibits at the Hanover Fair which ends tomorrow. This applied particularly to Daimler Benz. There were several significant announcements from this German vehicle manufacturer and they centred around a new marketing concept for vehicles which directly affects operators and also around the building of vehicles specifically to meet the German 8 bhp per ton power-to-weight ratio laws.
Daimler Benz is swinging markedly away from just offering vehicles by models within prescribed payload ranges. Instead it is beaming its sales activity on selling chassis as part of transport systems. No fewer than four "Mercedes Benz transportation systems", as it calls them were announced. These have been developed for the transportation of food, beverages, furniture and general haulage.
Mercedes says that with the aid of these systems the industries concerned can expect a considerable reduction in operating costs accompanied by higher turnover. The basis for this argument lies in the special vehicles and bodies developed for the needs of each of these industries.
Pressure to rationalize transport operations has, says Mercedes, led an increasing number of industries to integrate vehicle fleets and storage depots into transport chains. Because this is particularly true in Germany of companies manufacturing soft drinks, food and furniture Mercedes has concentrated on these particular industries. It was also found in the course of mar investigations of each of these sectors tl transport was constantly increasing importance in the overall pattern of got distribution. Accordingly, Mercedes co bined with bodybuilders and the trt associations of the various indust involved to find a solution to the problem integrating vehicles with other essen activities in distribution goods.
In the furniture moving trade, example, the interested group of body E chassis manufacturers in co-operation IA the German Association of the mov contractors drew up an optimum system furniture vans in three different paylt classes. As a result, Mercedes has develo] with Ackermann what is called M5form-Fahrzeug Programm.
With the M.:Worm plan, the two larg vehicles in the system are based on concept of vehicle and drawbar tra operation. For long-distance hauling design evolved is called the Pullman. 1 uses the Mercedes LP 1113/51 chassis a because it is the model intended long-distance work, has a sleeper cab b integrally with the 1500 cu ft alumini alloy body. Deck length works out at 2 The second model is called the Mixi this is identical with the Pullman except t it has an ordinary cab (unless otherv specified) and a box body separate from driver's cab. The Maxi is intended intermediate distance hauls.
Both the Pullman and the Maxi powered either by the OM : naturally-aspirated diesel or the OM 35 which is a turbocharged unit. naturally-aspirated form, the OM . produces 130 bhp (DIN) and the OM 35 168 bhp (DIN). These ratings are regal.' as adequate for vehicle and drawbar ta Dperation even though with a le minimum of 8 bhp per ton, gross tr weight is less than the permitted maxim This takes account of the fact that furnit is a light but bulky load. Therefore relatively light combination can be u without it being underpowered.
Lower down the pay-load scale vehicles selected are the City, a box with a load capacity of 1100 Cu ft, and Mini with a capacity of around 710 cu fi
) cu ft according to requirements. The y is based upon the Mercedes LP 608 /42 issis or the LP 808 /42 chassis and the ni on the L406D /35, the L508D or the 08D chassis, all according to customer !cification. The L508 and the L608 issis are both offered with the alternatives an lift 5in.-long wheelbase or one at 13ft The drawbar tailer for the Pullman and Maxi is offered in one payload )acity-1500 cu ft—but weight capacity either be roughly 7 tons or 8 tons. This is just one of the systems now .?.red for a particular industry by :rcedes and the others available have also 3-1 evolved with similar care. The vehicles .d in the Moform system gave an indication as to how German vehicle manufacturers are tackling the powerto-weight ratio question. Since the 8 bhp per ton regulationwhich applies to all newly licensed trucks of over 3.5 tons gvw up to and including combinations of 28.5 tons gvw—came into force on January I, last, there has been a number of developments centring around engine applications. The OM 352A turbocharged engine, referred to earlier, now permits use with a trailer at a gross train weight of up to 21 tons. It is replacing the OM 352 where higher performance is required although the 130 bhp naturally-aspirated OM 352 is being used down the pay-load scale.
Another move by Mercedes is to replace its LP 1317 13-ton truck with the LP 1319 by fitting the 192 bhp (DIN) OM 360 engine to allow operation at a gvw of 24 tons. The production series LP 1517 and the LP 1617 also have the 192 bhp diesel engine OM 360 and are now designated the L /LP 1519 and LP 1619. Their permitted gvw with trailer is 32 tons. An exception is the LA 1519, 172 bhp, 28.6 tons gross combination weight model. Until the end of 1971, the 6 bhp per ton regulation remains valid for all models 1519/1619 so far as newly licensed vehicles in Western Germany are concerned. This, of course, is because the 8 bhp per ton power-to-weight ratio does not come into force for vehicles and combinations exceeding 28.5 tons until January 1, 1972.
Six-wheeled vehicles in the 18 tons class, the L 1813, 6X2 and 6X4, will, says Mercedes, only be delivered on the home market with the 186 bhp turbo-charged engine. In export countries, however, the 130 bhp naturally-aspirated engine may still be chosen. The more powerful version L 1819 6X4 is supplied with the 192 bhp engine type OM 360. All engine ratings quoted are net, incidentally.
Two heavy dumpers and a new forward control tipper—the LPK 1632 built for drawbar operation at 38 tons—were announced at Hanover. This last outfit is unusual in that it is one of the first tipping vehicles to be fitted with the 320 net bhp (DIN) V10 diesel engine—the OM 403. Developed specifically in accordance with the 8 bhp per ton formula, it has an eight-speed syncromesh transmission plus a crawler and reverse gear. Improvements to the standard forward-control cab fitted on these vehicles includes fully adjustable seating for both driver and passenger. A sleeper version is available for use on long-distance outfits.
Mercedes also introduced the LP 2219, a 6x2 chassis designed specifically for use with lift-on lift-off bodies and fitted on the rear axles with air suspension. Designed as a distribution vehicle for short-distance work this outfit has a gvw of 22 tons. The vehicle's trailing axle can be lifted by means of a bellows and equipment is fitted to allow it to be automatically lowered before the maximum permissible axle load is reached on the leading axle.