Vest Lothian minibus applications refused
30th April 1971
Page 25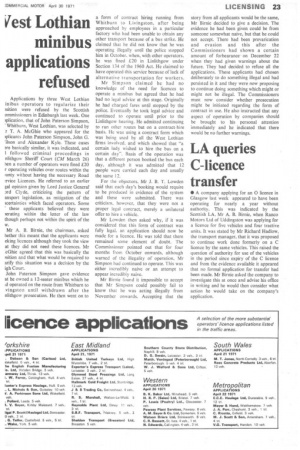 Page 25, 30th April 1971 —
Vest Lothian minibus applications refused
Close
Applications by three West Lothian inibus operators to regularize their mition were refused by the Scottish ommissioners in Edinburgh last week. One iplication, that of John Paterson Simpson,
• Whitburn, West Lothian, was selected by :r T. A. McGhie who appeared for the )plicants John Paterson Simpson, John G. 'awn and Alexander Kyle. These cases are basically similar, it was indicated, and I followed criminal proceedings in nlithgow Sheriff Court (CM March 26) hen a number of operators were fined £20 r operating vehicles over routes within the lunty without having the necessary Road ;rvice Licences. He referred to an earlier gal opinion given by Lord Justice Generale ard Clyde, criticizing the pattern of ansport legislation, as mitigation of the icertainties which faced operators. Some
• these applicants believed they were )erating within the letter of the law though perhaps not within the spirit of the w.
Mr A. B. Birnie, the chairman, asked hether this meant that the applicants were eking licences although they took the view at they did not need these licences. Mr :cGhie agreed that this was basically the nition and that what would be required to arify this situation was a decision by the igh Court.
John Paterson Simpson gave evidence at he owned a 12-seater minibus which he id operated on the route from Whitburn to .vingston until withdrawn after the nlithgow prosecution. He then went on to a form of contract hiring running from Whitburn to Livingston, after being approached by employees in a particular factory who had been unable to obtain any other transport because of a bus strike. He claimed that he did not know that he was operating illegally until the police stopped him in October, when, with other operators, he was fined £20 in Linlithgow under Section 134 of the 1960 Act. He claimed to have operated this service because of lack of alternative transportation for workers.
Mr Simpson claimed he had no knowledge of the need for licences to operate a minibus but agreed that he had had no legal advice at this stage. Originally he had charged fares until stopped by the police. Eventually he took legal advice and continued to operate until prior to the Linlithgow hearing. He admitted continuing to run other routes but on a contract-hire basis. He was using a contract form which was being used by all the West Lothian firms involved, and which showed that "a certain lady wished to hire the bus on a certain day". Basis of the operation was that a different person booked the bus each day, although it was admitted that 12 people were carried each day and usually the same 12.
For the objectors, Mr J. B. T. Lowden said that each day's booking would require to be produced in evidence of the system and these were submitted. There was criticism, however, that they were not a proper legal contract, merely a unilateral offer to hire a vehicle.
Mr Lowden then asked why, if it was considered that this form of contract was fully legal, an application should now be made for a licence. He was told that there remained some element of doubt. The Commissioner pointed out that for four months from October onwards, although warned of the illegality of operation, Mr Simpson had continued to operate. This was either incredibly naive or an attempt to appear incredibly naive.
Mr Birnie found it impossible to accept that Mr Simpson could possibly fail to know that he was acting illegally from November onwards. Accepting that the
story from all applicants would be the same, Mr Birnie decided to give a decision. The evidence he had been given could be from someone somewhat naive, but that he could not accept. There had been prevarication and evasion and this after the Commissioners had shown a certain amount of forbearanceon December 22 when they had given warnings about the future. They had decided to refuse all the applications. These applicants had chosen deliberately to do something illegal and had persisted in it and they were now proposing to continue doing something which might or might not be illegal. The Commissioners must now consider whether prosecution might be initiated regarding the form of contract in use. He also instructed that any aspect of operation by companies should be brought to his personal attention immediately and he indicated that there would be no further warnings.