Altered plates reduce licence
30th April 1971
Page 24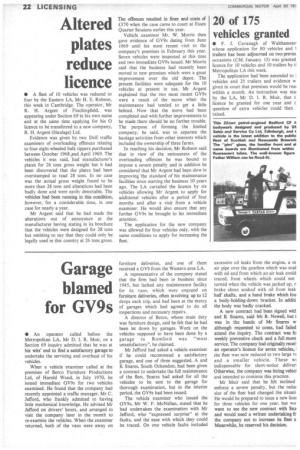 Page 24, 30th April 1971 —
Altered plates reduce licence
Close
• A fleet of 10 vehicles was reduced to four by the Eastern LA, Mr H. E. Robson, this week in Cambridge. The operator, Mr R. H. Argent of Finchingfield, was appearing under Section 69 in his own name and at the same time applying for his 0 licence to be transferred to a new company, R. H. Argent (Haulage) Ltd.
Evidence was given by two DoE traffic examiners of overloading offences relating to four eight-wheeled bulk tippers purchased between October 1968,and April 1969. The vehicles it was said, had manufacturer's plates for 26 tons gross weight but it had been discovered that the plates had been overstamped to read 28 tons. In no case was the actual gross weight found to be more than 28 tons and alterations had been badly done and were easily detectable. The vehicles had been running in this condition, however, for a considerable time, in one case for nearly a year.
Mr Argent said that he had made the alterations out of annoyance at the manufacturer having stating in its brochure that the vehicles were designed for 28 tons but omitting to say that they could only be legally used in this country at 26 tons gross.
The offences resulted in fines and costs of £370 when the case came to court at Essex Quarter Sessions earlier this year.
Vehicle examiner Mr. W. Morris then gave evidence of GV9s dating from June 1969 until his most recent visit to the company's premises in February this year. Seven vehicles were inspected at this time and two immediate GV9s issued. Mr Morris said that the business had recently been moved to new premises which were a great improvement over the old depot. The present facilities were adequate for the 10 vehicles at present in use. Mr Argent explained that the two most recent GV9s were a result of the move when the maintenance had tended to get a little behind. Now that the move had been completed and with further improvements to be made there should be no further trouble. The purpose of forming the limited company, he said, was to separate the haulage activities from other interests which included the ownership of three farms.
In reaching his decision, Mr Robson said that in view of the seriousness of the overloading offences he was bound to impose a severe penalty and in addition he considered that Mr Argent had been slow in improving `the standard of his maintenance facilities since starting the business 10 years ago. The LA curtailed the licence by six vehicles allowing Mr Argent, to apply for additional vehicles after a period of four months and after a visit from a vehicle examiner. He would also ensure that any further GV9s be brought to his immediate attention.
The application for the new company was allowed for four vehicles only, with the same conditions to apply for increasing the fleet.