New allocation system for French permits
30th April 1971
Page 17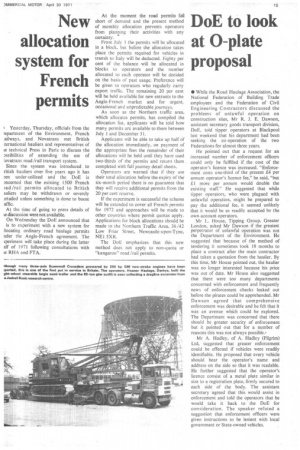 Page 17, 30th April 1971 —
New allocation system for French permits
Close
I Yesterday, Thursday, officials from the iepartment of the Environment, French ailways, and Novatrans met British .ternational hauliers and representatives of te technical Press in Paris to discuss the Dssibilities of extending the use of rovatrans road/rail transport system.
Since the system was introduced to ritish hauliers over five years ago it has 3en under-utilized and the DoE is mcerned that the existing .1500 French i,ad/rail permits allocated to British auliers may be withdrawn or severely irtailed unless something is done to boost affic.
At the time of going to press details of Le discussion were not available.
On Wednesday the DoE announced that is to experiment with a new system for locating ordinary road haulage permits rider the Anglo-French agreement. The cperiment will take place during the latter alf of 1971 following consultations with ie RHA and ETA. At the moment the road permits fall short of demand and the present method of monthly allocation prevents operators from planning their activities with any certainty.
From July 1 the permits will be allocated in a block, but before the allocation takes place the permits required for vehicles in transit to Italy will be deducted. Eighty per cent of the balance will be allocated in blocks to operators and the number allocated to each operator will be decided on the basis of past usage. Preference will be given to operators who regularly carry export traffic. The remaining 20 per cent will be held available for new entrants to the Anglo-French market and for urgent, occasional and unpredictable journeys.
As soon as the Northern traffic area, which allocates permits, has compiled the allocation list, applicants will be told how many permits are available to them between July 1 and December 31.
Applicants will be able to take up half of the allocation immediately, on payment of the appropriate fees the remainder of their allocations will be held until they have used two-thirds of the permits and return them . completed with full journey detail sheets.
Operators are warned that if they use their total allocation before the expiry of the six-month period there is no guarantee that they will receive additional permits from the 20 per cen't reserve.
If the experiment is successful the scheme will be extended to cover all French permits for 1972 and approaches will be made to other countries where permit quotas apply. Applications for block allocations should be made to the Northern Traffic Area, 36/42 Low Friar Street, Newcastle-upon-Tyne, NE! 5XR.
The DoE emphasizes that this new method does not apply to non-quota or "kangaroo" road /rail permits.