DoE to look at 0-plate proposal
30th April 1971
Page 17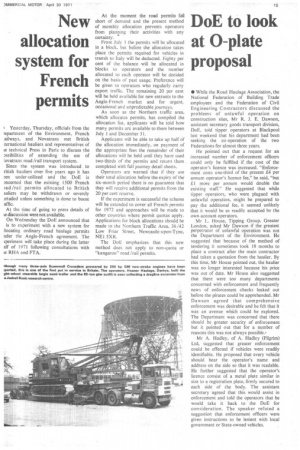 Page 17, 30th April 1971 —
DoE to look at 0-plate proposal
Close
• While the Road Haulage Association, the National Federation of Building Trade employees and the Federation of Civil Engineering Contractors discussed the problems of unlawful operation on construction sites, -Mr R. J. E. Dawson, assistant secretary goods transport division, DoE, told tipper operators at Blackpool last weekend that his department had been seeking the co-operation of the two Federations for almost three years.
He pointed out that a request for an increased number of enforcement officers could only be fulfilled if the cost of the operator's licence was increased. "Enforcement costs one-third of the present £4 per annum operator's licence fee,' 7 he said, "but £.1 more per annum would double the existing staff," He suggested that while tipper operators, who were plagued with unlawful operation, might be prepared to pay the additional fee, it seemed unlikely that it would be as readily accepted by the own-account operators.
Mr L. House, Tipping Group, Greater London, asked Mr Dawson if the greatest perpetrator of unlawful operation was not the Department of the Environment. He suggested that because of the method of tendering it sometimes took 18 months to place a contract after the main contractor had taken a quotation from the haulier. By this time, Mr House pointed out, the haulier was no longer interested because his price was out of date. Mr House also suggested that there were too many departments concerned with enforcement and frequently news of enforcement checks leaked out 'before the pirates could be apprehended. Mr Dawson agreed that comprehensive enforcement was desirable and he felt that it was an avenue which could be explored. The Department was concerned that there should be greater security of enforcement but it pointed out that for a number of reasons this was not always possible..
Mr A. Hadley, of A. Hadley (Pilgrim) Ltd, suggested that greater enforcement could be effected if vehicles were readily identifiable. He proposed that every vehicle should bear the operator's name and address on the side so that it was readable. -He further suggested that the operator's licence consist or a metal plate similar in size to a registration plate, firmly secured to each side of the body. The assistant secretary agreed that this would assist in enforcement and told the operators that he would take it back to the DoE for consideration, The speaker refuted a suggestion that enforcement officers were given instructions to be lenient with local government or State-owned vehicles.