No hope yet of increased gvw: Mr Peyton shelves consideration until roads are suitable
30th April 1971
Page 16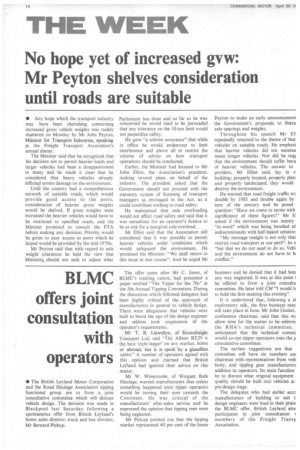 Page 16, 30th April 1971 —
No hope yet of increased gvw: Mr Peyton shelves consideration until roads are suitable
Close
• Any hope which the transport industry may have been cherishing concerning increased gross vehicle weights was rudely shattered on Monday by Mr John Peyton, Minister for Transport Industries, speaking at the Freight Transport Association's annual dinner.
The Minister said that he recognized that his decision not to permit heavier loads and larger vehicles had been a disappointment to Many and he made it clear that he considered that heavy vehicles already inflicted severe damage on the environment.
Until the country had a comprehensive network of suitable roads, which would provide good access to the ports, consideration of heavier gross weights would be shelved. If gross weights were increased the heavier vehicles would have to be restricted to specified roads, and the Minister promised to consult the FTA before making any decision. Priority would be given to easy access to ports which he hoped would be provided by the mid-1970s.
Mr Peyton said that with regard to axle weight tolerances he held the view that Ministerk, should not seek to adjust what Parliament has done and so far as he was concerned he would need to be persuaded that any tolerance on the 10-ton limit would not jeopardize safety.
He gave "a solemn assurance" that while in office he would endeavour to limit interference and above all to restrict the volume of advice on how transport operations should be conducted.
Earlier, the Minister had listened to Mr John Elliot, the Association's president, making several pleas on behalf of the industry. The president asked that the Government should not proceed with the statutory system of licensing of transport managers as envisaged in the Act, as it could contribute nothing to road safety.
He maintained that axle overloading would not affect road safety and said that it was unrealistic for an operator's licence to be at risk for a marginal axle overload.
Mr Elliot said that the Association still considered that it was possible to permit heavier vehicles under conditions which would safeguard the environment. Fle promised the Minister: "We shall return to this issue in due course". And he urged Mr Peyton to make an early announcemem the Government's proposals to libera axle spacings and weights.
Throughout his speech Mr Ell repeatedly returned to the theme of hew vehicles on suitable roads. He emphasi that' heavier vehicles did not necessa mean longer vehicles. Nor did he sugl that the environment should suffer beca of heavier vehicles. The answer to problem, Mr Elliot said, lay in r building; properly located, properly plan and properly landscaped, they would destroy the environment.
He warned that road freight traffic we double by 1985 and double again by turn of the century and he posed question: "Have we come to terms with significance of these figures?" Mr El asked if the environment was merely "in-word" which was being bandied at indiscriminately with half-baked solution "My message tonight is not only that restrict road transport at our peril", he s "but that we do not need to do so. Vehi and the environment do not have to bl conflict."