BLMC offers joint consultation with operators
30th April 1971
Page 16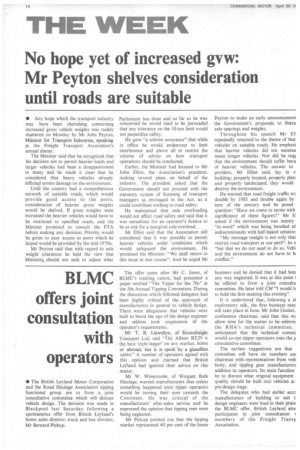 Page 16, 30th April 1971 —
BLMC offers joint consultation with operators
Close
• The British Leyland Motor Corporation and the Road Haulage Association tipping functional group are to form a joint consultative committee which will discuss vehicle design. The decision was made in Blackpool last Saturday following a spontaneous offer from British Leyland's home sales director, truck and bus division, Mr Bernard Pickup. The offer came after Mr C. Jones, of BLMC's training centre, had presented a paper entitled "The Tipper for the 70s" at the 5th Annual Tipping Convention. During the discussion which followed delegates had been highly critical of the approach of manufacturers in general to vehicle design. There were allegations that vehicles were built to boost the ego of the design engineer and seldom took cognizance of the operator's requirements.
Mr T. B. Llewellyn, of Econofreight Transport Ltd, said "The Albion RE29 is the best 'eight-legger' on any market, home or abroad, but it is spoilt by a glassfibre cabin." A number of operators agreed with this opinion and claimed that British Le/land had ignored their advice on this matter.
Mr W. Winetroube, of Wingate Bulk Haulage, warned manufacturers that unless something happened soon tipper operators would be turning their eyes towards the Continent. He was critical of the manufacturers' after-sales service and he expressed the opinion that tipping men were being neglected.
Mr Pickup pointed out that the tipping market represented 40 per cent of the home business and he denied that it had beet any way neglected. It was at this point 1 he offered to form a joint consulta committee. He later told CM "I would h to hold the first meeting this evening".
It is understood that, following a si exploratory talk, the first business atm will take place in June. Mr John Gooier, conference chairman, said that this wc allow time for the matter to be referret the RHA's technical committee. anticipated that the technical commi would co-opt tipper operators onto the jo consultative committee.
The earliest suggestions are that committee will have six members an chairman with representatives from vehi body, and tipping gear manufacturers addition to operators. Its main function be to discuss what original equipment quality should be built into vehicles at pre-design stage.
The delegates who had earlier acct manufacturers of building to suit t design engineers were loud in their praia the BLMC offer. British Leyland alre participates in joint consultation members of the Freight Transr Association.