Roads to freedom?
30th April 1971
Page 15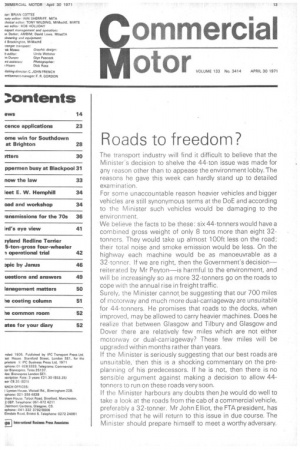 Page 15, 30th April 1971 —
Roads to freedom?
Close
The transport industry will find it difficult to believe that the Minister's decision to shelve the 44-ton issue was made for pny reason other than to appease the environment lobby. The reasons he gave this week can hardly stand up to detailed examination.
For some unaccountable reason heavier vehicles and bigger vehicles are still synonymous terms at the DoE and according to the Minister such vehicles would be damaging to the environment.
We believe the facts to be these: six 44-tonners would have a combined gross weight of only 8 tons more than eight 32tonners. They would take up almost 100ft less on the road; their total noise and smoke emission would be less. On the highway each machine would be as manoeuvrable as a 32-tonner. If we are right, then the Government's decision reiterated by Mr Peyton—is harmful to the environment, and will be increasingly so as more 32-tonners go on the roads to cope with the annual rise in freight traffic.
Surely, the Minister cannot, be suggesting that our 700 miles of motorway and much more dual-carriageway are unsuitable for 44-tonners. He promises that roads to the docks, when improved, may be allowed to carry heavier machines. Does he realize that between Glasgow and Tilbury and Glasgow and Dover there are relatively few miles which are not either motorway or dual-carriageway? These few miles will be upgraded within months rather than years.
If the Minister is seriously suggesting that our best roads are unsuitable, then this is a shocking commentary on the preplanning of his predecessors. If he is not, then there is no sensible argument against making a decision to allow 44tanners to run on these roads very soon.
If the Minister harbours any doubts then ,he would do well to take a look at the roads from the cab of a commercial vehicle, preferably a 32-tonner, Mr John Elliot, the FTA president, has promised that he will return to this issue in due course. The Minister should prepare himself to meet a worthy adversary.