Boosting Tract& Pull
30th April 1948
Page 54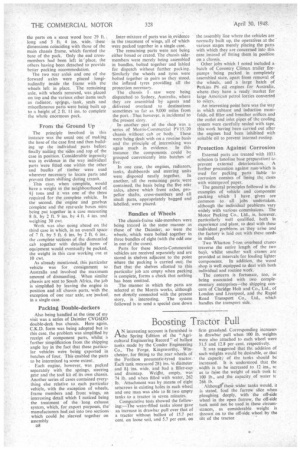 Page 54, 30th April 1948 —
Boosting Tract& Pull
Close
AN interesting account is furnished in the Spring Edition of the "Agricultural Engineering Record" of ballast tanks made by the Conder Engineering Co.. The Forge, Kingsworthy. Winchester. for fitting to the .rear wheels of the Fordson pneumatic-tyred tractor. Each tank measured 284 ins. in diameter and 84 ins, wide, and had a filler-cap and. draintap. Weight, empty, was 74 lb. and when filled with water, 262 lb. Attachment was by means of eight setscrews in existing holes in each wheel and one man was able to fit two empty tanks to a tractor in seven minutes,
Comparative tests showed the following:—The water-filled tanks alone gave an increase in drawbar pull over that of a tractor without ballast of 15.7 per cent. on loose soil, and 5.7 per cent. on firm grassland. Corresponding increases in drawbar pull when 100 lb. weights were also attached to each wheel were 31.5 and 12.8 per cent. respectively.
It was suggested that the addition of such weights would be desirable, or that the capacit,r of the tanks should be increased. It is understood that the width is to be increased to 12 ins., sc as to raise the weight of each tank tc 100 lb., and the capacity of water tt 266 lb.
Althouglr these wider tanks would, it is stated, foul the furrow slice when ploughing deeply, with the off-side wheel in the open furrow, the off-side tank need not be used in these circumstances, as considerable weight is thrown on to the off-side wheel by the tilt of the tractor.