Meat Hauliers Honour R.T.E.
30th April 1948
Page 32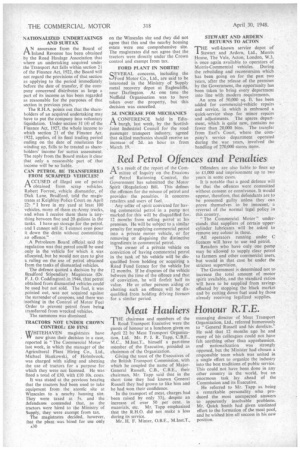 Page 32, 30th April 1948 —
Meat Hauliers Honour R.T.E.
Close
Keywords :
THE chairman and members of the Road Transport Executive were the guests of honour at a luncheon given on April 22 by Meat Transport Organization, Ltd. Mr. P. J. R. Tapp, C.B.E., M.C., M.Inst.T., himself a part-time member of the Executive, presided as chairman of the Organization.
Giving the toast of the Executives of the British Transport Commission. with which he coupled the name of MajorGeneral Russell, C.B., C.B.E., their chairman, Mr. Tapp said that in the short time they had known General Russell they had grown to like him and he had won their confidence.
In the transport of meat, charges had been raised by only 33i, despite an increase of over 50 per cent. in materials, etc. Mr. Tapp emphasized that the R.H.O. did not make a loss during its service.
Mr..H. F. Minter, 0.13.E., managing director of Meat Transport Organization, Ltd., referred humorously to General Russell and his derelicts." He said that 12 months ago he and many of his colleagues could not have felt anything other than apprehension. and nationalization was strongly opposed, but the Minister had chosen a responsible team which was united in a single effort to organize the industry into the best traditions of public service. This could not have been done in any other country in the world, but an enormous task lay ahead of the Commission and its Executive.
He referred to Mr. Tapp as being a remarkable personality who produced the most unexpected answers to apparently insolvable problems. Mr. Quick Smith had given unstinted effort to the formation of the meat pool, and he wished him all success in his new position.