Personal Pars
30th April 1948
Page 30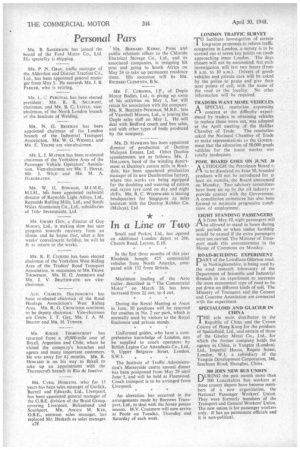 Page 30, 30th April 1948 —
Personal Pars
Close
MR. B. SANDERSON has joined the board of the Ford Motor Co., Ltd. His speciality is shipping.
Ma. P_ N. GRAY. traffic manager Of the Aldershot and District Traction Co., Ltd.. has been appointed general manager from May 1. He succeeds MR. J. B. PARKER. who is retiring.
MR. L. 0. PERCIVAL has been elected president:. MR. R. R. SILLIFANT, chairman, and MR. B. C. LirrLE, vice'chairman, of the North London branch of the institute of Welding.
MR. N. G. BROOKES has been appointed chairman of the London branch of the Industrial Transport Association. MR. W. a WIDNELL and MR. E. YOUNG are vice-chairmen.
MR. L. J. MATHER has been re-elected chairman of the Yorkshire Area of the Passenger 'Vehicle Operators' Association. Vice-chairmen are MR. T. HovLE, MP J. Vv'tio and Ma. M. A. IIARGRF.AVES, MR. W. II. BOWMAN, M.I.M.E., M.1.M., htrs been appointed technical director of Reynolds Light Alloys, Ltd., Reynolds Rolling Mills, Ltd., and South Wales Aluminium Co., Ltd., subsidiaries of Tube Investments, Ltd.
MR. EWART GUY, a director of Guy Motors, Ltd., is making slow but sure progress towards recovery from an Illness and he hopes that, after a few weeks' convalescent holiday, he will be fit to return to the works.
MR. R. E. CLouon has been elected chairman of the Yorkshire West Riding Area of the Traders' Road Transport Association, in succession to MR. FRANK THOMPSON. MR. H. 0. ANDREWS and MR. J. V. BRATIHWAITE are vicechairman.
Am. CHARLES HOLDSWORTII has been re-elected chairman of the Road Haulage Association's West Riding Area, MR. R. G. CROWTHER continues so be deputy chairman: Vice-chairmen are CouN. J. T. GEE, MR. J. A. M. BRIGHT and MR. H. TURNER.
MR. ROGER THORNYCROFT has returned from a 10,000-mile tour of Brazil, Argentina and Chile, where he visited the compaay's branches and agents and many important customers. He was away for 41 months. M. R. HOWARD is on his way to Brazil to take up an appointment with the Thornycroft branch in Rio de Janeiro.
MR. 'CYRIL HESKETH, who for 15 years has been sales manager of Garlick, Burrell and Edwards, Ltd., Liverpool, has been appointed general manager of the G.13.E. division of the Braid Group, covering Liverpool, Birkenhead and Southport. MR. ANGUS M. Kea, 0.B.E., assistant sales manager, has replaced Mr. Hesketh as sales manager. • MR. BERNARD KERBY, Press and public relations officer to the Chloride Electrical Storage Co., Ltd., and its associated companies, is resigning his post and going to South Africa on May 24 to take up permanent residence there. His successor will be MR. RICHARD CLEMENTS. B.Sc.
MR. F. CuasoNs. J.P., of Duple Motor Bodies, Ltd., is giving up some of his activities on May 1, but will retain his association with the company. M. R. 13er.otry-NswmaN, M.B.E" late of Vauxhall Motors, Ltd., is joining the Duple sales staff on May 1. He will deal with Bedford coach and bus sales, and with other types of body produced by the company.
MR. D. HavaiNs has been appointed director of production of Dunlop Malayan Estates, Ltd. Other Dunlop appointments are as follows: MR. J. HOLLOWS, head of the winding department at Dunlop's cotton mills in Rochdale, has been appointed production manager of its new Dunfermline factory, where two works are being equipped for the doubling and weaving of cotton and rayon tyre cord on day and night shifts. MR. R. C. WOODWARD is leaving headquarters for Singapore as sales assistant with the Dunlop Rubber Co. (Malaya), Ltd.
Tags
People
:
J. B. PARKER
,
J. V. BRATIHWAITE
,
ROGER THORNYCROFT
,
R. C. WOODWARD
,
H. TURNER
,
J. HOLLOWS
,
FRANK THOMPSON
,
RICHARD CLEMENTS
,
E. YOUNG
,
CHARLES HOLDSWORTII
,
N. G. BROOKES
,
BERNARD KERBY
,
R. R. SILLIFANT
,
R. G. CROWTHER
,
L. J. MATHER
,
CYRIL HESKETH
,
B. SANDERSON
,
J. Vv'tio