In a Line or Two
30th April 1948
Page 30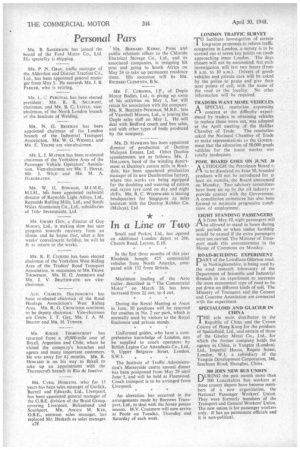 Page 30, 30th April 1948 —
In a Line or Two
Close
Small and Parkes, Ltd., has opened an additional London depot at 266, Church Road, Leyton, E.10.
In the first three months of this year Rhodesia bought 425 commercial vehicles from North America, compared with 132 from Britain.
Maximum loading of the Aero trailer, described in "The Commercial Motor" on March 26, has been increased from 21 cwt. to 4 cwt.
During the Royal Meeting at Ascot in June, 50 positions will be reserved for coaches in No. 2 car park, which is normally used by visitors to the Royal Enclosure and private stands.
Uniformed guides, who have a comprehensive knowledge of London, can be supplied to coach operators by British Legion Car Attendants Co., Ltd., 9, Upper Belgrave Street, London, S.W.1.
The Institute of Traffic Administration's Merseyside centre annual dinner has been postponed from May 29 until June 5, and will be held at Fleetwood. Coach transport is to be arranged from Liverpool.
An alteration has occurred in the arrangements made by Burrows Transport, Ltd., to deal with the Jersey potato season. M.V. Cranmere will now arrive at Poole on Tuesday, Thursday and Saturday of each week.