Licences for . W.D. Haulage Refused A N application by the
30th April 1948
Page 28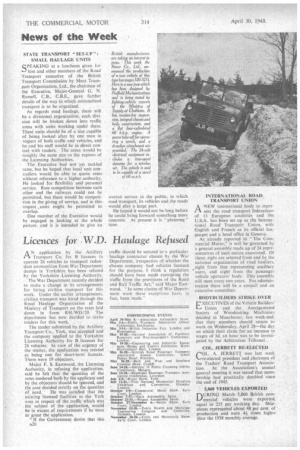 Page 28, 30th April 1948 —
Licences for . W.D. Haulage Refused A N application by the
Close
Artillery Transport Co. for B licences to operate 26 vehicles to transport redundant ammunition from War Department dumps in Yorkshire has been refused by the Yorkshire Licensing Authority.
The War Department recently decided to make a change in its arrangements for hiring civilian transport for this work. Under the earlier arrangements. civilian transport was hired through the Road Haulage Organization of the Ministry of Transport on the rates laid down in form RHIWD/20. The department has now decided to invite tenders for this work. .
The tender submitted by the Artillery Transport Co., York, was accepted and the company applied to the Yorkshire Licensing Authority for B licences for 26 vehicles. In view of the urgency of the matter, the application was treated • as being one for short-term" licences.
• There were 19 objectors.
Major F. S. Eastwood, the Licensing Authority, in refusing the application, said he felt that the question of the rates tendered both by the applicant and by the objectors should be ignored, and the case decided strictly on the question
of need. He was satisfied that the existing licensed facilities in the York area in respect of the traffic which was the subject of the application, would be in excess. of requirements if he were to grant the application.
"If the Government desire that this A26
traffic should be secured to a particular haulage contractor chosen by the War Department, irrespective of whether the chosen company had vehicles licensed for the purpose, I think a regulatiort should have been made exempting the traffic from the provisions of the Road and Rail Traffic Act," said Major Eastwood. "In some clasSes of War Department work these exceptions have, in fact, been made.