One Hears -
30th April 1948
Page 27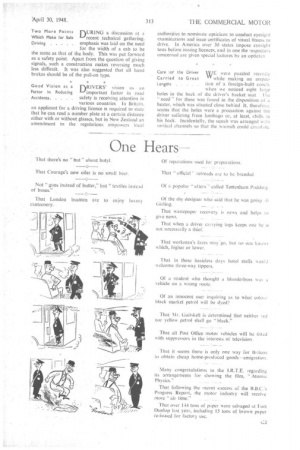 Page 27, 30th April 1948 —
One Hears -
Close
That there's no " but" about butyl.
That Courage's new oiler is no small beer.
Not " guns instead of butter," but " textiles instead of buses." . -0
That London busmen are to enjoy luxury. canteen ery.
Of reparations used for preparations.
That "official ' retreads are to be branded_ Of a popular "alters " called Tottenham Pudding.
Of the shy designer who said that he was going ..11 GirIing
That wastepaper recovery is news and helps to give news. .
That when a driver carrying logs keeps one he is not necessarily a thief.
That workman's fares may.go, but no one knomis which, higher or lower.
That in these basicless days hotel staffs would welcome three-way tippers.
Of a student who thought a blunderbuss was a vehicle on a wrong route.
Of an innocent user inquiring as to what colour black market petrol will be dyed?
That Mr. Ciailskell is determined that neither red nor yellow petrol shall go "black."
That all Post Office motor vehicles will be fitted with suppressors in the interests of television.
That it seems there is only one way for Britons to obtain cheap home-produced goods—emigration
.Many congratulations to the I.R.T.E. regarding its arrangements for showing the film, " Atomic Physics."
That following the recent success of the 11.11.C.'s• Progress Report, the motor industry will receive more " air time."
That over 144 tons of paper were salvaged at Fort Dunlop last year. including 15 tons of brown paper re-issued for factory usc.