0 ith so much power avail
2nd September 1999
Page 32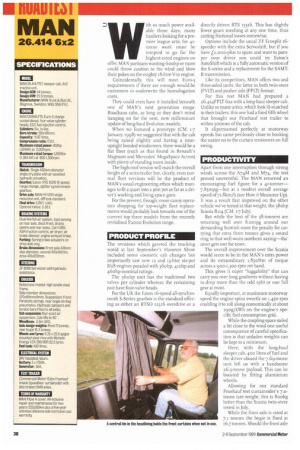 Page 33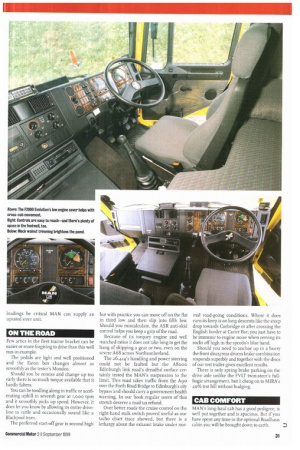 Page 34
Page 32, 2nd September 1999 —
0 ith so much power avail
Close
able these days, many hauliers looking for a premier league artic for 41ton n e work must be tempted to go for the highest-rated engines on
offer. MAN partisans wanting 6 oohp or more could throw caution to the wind and blow their pokes on the mighty ig-litre VIO engine.
Coincidentally, this will meet Euro-3 requirements if there are enough would-be customers to underwrite the hornologation costs.
They could even have it installed beneath one of MAN's next generation megaRoaclhaus cabs, as long as they don't mind hanging on for the next, new millennium update of long-haul Evolution models.
When we featured a prototype (CM, 1-7 January, 1998) we suggested that with the cab being raised slightly and having a nearupright bonded windscreen, there would be a flat floor (such as that found in Renault's Magnum and Mercedes' McgaS pace Actros) with plenty of standing room inside.
The high-roof version will match the overall height of a semi-trailer but, clearly, even normal fleet versions will be the product of MAN's usual engineering ethos which manages to fit a quart into a pint pot as far as a driver's working and living space goes.
For the present, though, more canny operators shopping for top-weight fleet replacements would probably look towards one of the current top three models from the recently revitalised F2000 Evolution range.
PRODUCT PROFILE
The revisions which greeted the trucking world at last September's Hanover Show included some cosmetic cab changes but importantly saw new 12 and 13-litre six-pot D28 engines paraded with 36 ohp, 4iohp and 4 6ohp nominal ratings.
The 36ohp unit has the traditional two valves per cylinder whereas the remaining pair have four-valve heads.
For the UK the Eaton i6-speed all-synchromesh S-Series gearbox is the standard offering as either an RTSO 12316 overdrive or a directly driven RTS 15316. This has slightly fewer gears meshing at any one time, thus cutting frictional losses somewhat.
Options include the usual ZF Ecosplit r6speeder with the extra Servoshift, but if you have L2, oo o-plus to spare and want to pamper your driver you could try Eaton's Auto Shift which is a hilly automatic version of the S-series and a replacement for the SAMTB transmission.
Like its competitors, MAN offers two and three-axled units, the latter in both twin-steer (FVLT) and pusher axle (FPLT) format.
For this test MAN had prepared a 26.414FPLT 6x2 with a long-haul sleeper cab. Unlike so many artics, which look ill-matched to their trailers, this one had a fixed fifth wheel that brought our Fruehauf test trailer to within 500mm of the cab.
It slipstreamed perfectly at motorway speeds but came perilously close to hooking the suzies on to the curtain tensioners on full swing.
PRODUCTIVITY
Apart from one interruption through strong winds across the A74 M and M74, the test proved uneventful. The MAN returned an encouraging fuel figure for a 4 r-ton ner7.85mpg—but at a modest overall average speed of 7i.8km/h (see How it Measures Up). It was a result that improved on the other vehicle we've tested at that weight, the 38ohp Scania R114 (CM, 1-7 July).
But while the best of the 38-tonners are returning well over 8.ompg around our demanding Scottish route the penalty for carrying that extra three tonnes gives a sound ring to that well-worn northern saying—tha' niver gets owt for nowt.
The overall improvement over the Scania would seem to be in the MAN's extra power and its extraordinary 1,85oNm of torque across a 900-1,300 rpm rev band.
This gives it super "luggability" that can carry you over long gradients without having to drop more than the odd split or one full gear at most.
Equally important, at maximum motorway speed the engine spins sweetly on 1,45o rpm enabling it to roll along economically at about 9og/kWh on the engine's specific fuel consumption grid.
While the coupling space sailed a bit close to the wind one useful consequence of careful specification is that unladen weights can be kept to a minimum.
Here, with the long-haul sleeper cab, 400 litres of fuel and the driver aboard the 7.69-tonne unit left us with a handsome 26.3-tonne payload. This can be boosted by fitting aluminium wheels.
Allowing for our standard Fruehauf test curtainsider's 7.0tonne tare weight, this is 800kg better than the Scania twin-steer tested in July.
While the front axle is rated at 7.1 tonnes the bogie is fixed at 16.7 tonnes. Should the front axle loadings be critical MAN can supply an up rated steer unit.
ON THE ROAD
Few artics in the fleet tractor bracket can be easier or more forgiving to drive than this well run-in example.
The pedals are light and well positioned and the Eaton box changes almost as smoothly as the tester's Mondeo.
Should you be remiss and change up too early there is so much torque available that it hardly falters.
You can be toodling along in traffic or accelerating uphill in seventh gear at r,000 rpm and it smoothly picks up speed. However, it does let you know by allowing its entire driveline to rattle and occasionally sound like a Blackpool tram.
the preferred start-off gear is second high but with practice you can move off on the flat in third low and then slip into fifth low. Should you miscalculate, the ASR anti-skid control helps you keep a grip of the road.
Because of its torquey engine and well matched ratios it does not take long to get the hang of skipping a gear or two, even on the severe A68 across Northumberland.
The 26.414's handling and power steering could not be faulted but the A8000 Edinburgh link road's dreadful surface certainly tested the MAN's suspension to the limit. This road takes traffic from the A90 over the Forth Road Bridge to Edinburgh's city bypass and should carry a government health warning. In our book regular users of this stretch deserve a road tax refund.
Over better roads the cruise control on the right-hand stalk switch proved useful as our tacho chart trace showed, but there is a lethargy about the exhaust brake under nor
mal road-going conditions. Where it does earn its keep is on long descents like the steep drop towards Corbridge or after crossing the English border at Carter Bar; you just have to be immune to engine noise when revving its socks off high in the speedo's blue band.
Should you need to anchor up in a hurry the front discs/rear drums brake combination responds superbly and together with the discs of our test trailer gives excellent results.
There is only spring brake parking on the drive axle unlike the FVLT twin-steer's fullbogie arrangement, but it clung on to MIRA's zo% test hill without budging.
CAB COMFORT
MA N's long-haul cab has a good pedigree, is well put together and is spacious. But if you have spent any time in the optional Roadhaus cabin you will be brought down to earth. 0 It has an easy three-step entry with plenty of grab handles and the fully-sprung clothtrimmed driver's seat is comfortable enough, but the basic passenger seat is just a padded perch and guaranteed to bring on the twinges.
Inside everything looks well fitted together, even the mock walnut trim gives a new appeal. Controls are well positioned and the steering wheel adjusts for clear views of the instruments. Large driving mirrors are remotely adjustable which leaves few blind spots.
The low engine hump is just about negotiable from either side but the bunk is recessed to match the seats, is oddly shaped and thus restrictive. On the plus side there is no shortage of interior lighting—six lamps in all—which is just as well because the interior is awash with many shades of blacks and greys and needs brightening up.
On the road the cab is free of rattles and squeaks. The low noise levels are maintained even when toiling up long grades. Apart from when loosely-stashed jacking bars rolled about in the nearside locker it did not exceed 72c1B(A) and that was when pulling maximum motorway speeds at 1,430 rpm.
For a fleet cab the storage looks adequate with space under the bunk; it needs raising to reach items underneath. There are two small overhead lockers plus a centre bin holding the front curtains.
Two forward sun blinds are useful but threaten to take your fingers off when they snap back. But where are the side shades? When you are heading north at sunrise they are essential.
MAN goes to the trouble to build in an effective heating and ventilation system but then supplies one of those exasperating Clarion radios that needs the dexterity of a harpist and the eyes of an eagle to activate when driving.
Access behind the cab is via two steps and a metal walkway on the off-side but should you break down on the hard shoulder of our motorways remember you are on the 'wrong side'. On the Continent you should be quite safe.
SUMMARY
Venerable it may be, but the MAN cab still has a great presence. And now, with the 4o3hp, 24-valve engine and the Eaton S-Series 16speed transmission beneath it, the pusheraided 26.414 has become an outstanding performer.
In most respects, the model is driver and manager-friendly and, having notched up 7.85mpg pulling 41 tonnes at a fair pace, the unit seems to give a good account of itself. This is despite a rather lofty £75,355 list price, including aerodynamics, without which it would hardly have achieved the fuel economy.
Parts prices are reasonable, but these engines have larger sumps and use synthetic lube oils from new. This has enabled MAN to extend service intervals to 8o,000km for engine oil changes and 32o,000lcm for the transmission so service downtime is reduced.
The recent F2000 range's cab and driveline upgrade looks to be an important step towards next year's stage of product development, which is expected to include the eagerly awaited new cab.
Now that will be evolution.
by Bryon Jarvis