Fuel injection gets more control at Cat
2nd September 1999
Page 16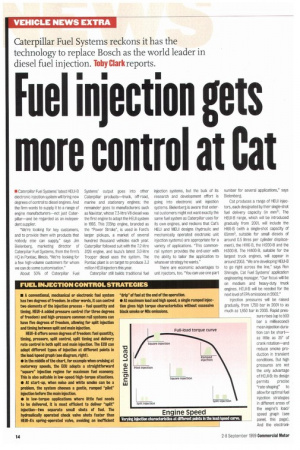 Page 17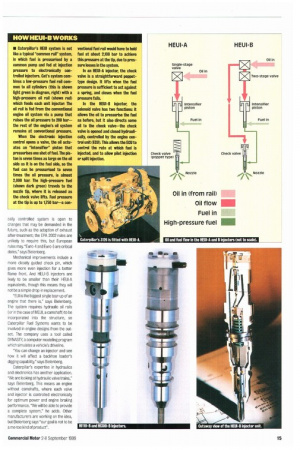 Page 16, 2nd September 1999 —
Fuel injection gets more control at Cat
Close
Caterpillar Fuel Systems reckons it has the technology to replace Bosch as the world leader in diesel fuel injection. Toby Clark reports.
• Caterpillar Fuel Systems' latest HEUI-B electronic injection system will bring new degrees of control to diesel engines. And the firm wants to supply it to a range of engine manufacturers—not just Caterpillar—and be regarded as an independent supplier.
"We're looking for key customers, and to provide them with products that nobody else can supply," says Jim Bielenberg, marketing director of Caterpillar Fuel Systems, from the firm's HQ in Pontiac. llinois. "We're looking for a few high-volume customers for whom we can do some customisation."
About 50% of Caterpillar Fuel Systems' output goes into other Caterpillar products—truck, off-road, marine and stationary engines; the remainder goes to manufacturers such as Navistar, whose 7.3-litre V8 diesel was the first engine to adopt the HEUI system in 1993. This 235hp engine, branded as the "Power Stroke", is used in Ford's larger pickups, a market of several hundred thousand vehicles each year. Caterpillar followed suit with the 7.2-litre 3126 engine, and Isuzu's latest 3.0-litre Trooper diesel uses the system. The Pontiac plant is on target to produce 3.3 million HEUI injectors this year.
Caterpillar still builds traditional fuel injection systems, but the bulk of its research and development effort is going into electronic unit injection systems. Bielenberg is aware that external customers might not want exactly the same fuel system as Caterpillar uses for its own engines, and reckons that Cat's HEUI and MEIJI designs (hydraulic and mechanically operated electronic unit injection systems) are appropriate for a variety of applications. "This commonrail system provides the end-user with the ability to tailor the application to whatever strategy he wants."
There are economic advantages to unit injectors, too. "You can use one part number for several applications," says Bielenberg.
Cat produces a range of HEUI injectors, each designated by their single-shot fuel delivery capacity (in mm31. The HEUI-B range, which will be introduced gradually from 2001, will include the HI65-B (with a single-shot capacity of 65mm3, suitable for small diesels of around 0.5 litres per cylinder displacement), the HI110-B, the H1200-B and the H1300-B. The HI400-B, suitable for the largest truck engines, will appear in around 2003. "We are developing HEUI-B to go right across the line," says Ron Shinogle, Cat Fuel Systems' application engineering manager. "Our focus will he on medium and heavy-duty truck engines. HEUI-B will be needed for the next level of EPA emissions in 2002."
Injection pressures will be raised gradually from 1,750 bar in 2001 to as much as 1,850 bar in 2003. Rapid pressure rises (up to 500 bar a millisecond) mean injection duration can be short— as little as 350 of crank rotation—and reduce smoke production in transient conditions. But high pressures are not the only advantage of HEUI-B: its design
permits precise "rate-shaping" to allow for optimal fuel injection strategies in different areas of the engine's load/ speed graph (see panel, this page). And the electroni rally controlled system is open to changes that may be demanded in the future, such as the adoption of exhaust after-treatment: the EPA 2002 rules are unlikely to require this, but European rules may. "Euro-4 and Euro-5 are critical dates," says Bielenberg.
Mechanical improvements include a more closely guided check pin, which gives more even injection for a better flame front. And HEUI-B injectors are likely to be smaller than their HEUI-A equivalents, though this means they will not be a simple drop-in replacement.
"EUI is the biggest single tear-up of an engine that there is," says Bielenberg. The system requires hydraulic oil rails (or in the case of MEUI, a camshaft) to be incorporated into the structure, so Caterpillar Fuel Systems wants to be involved in engine designs from the outset. The company uses a tool called DYNASTY, a computer modelling program which simulates a vehicle's driveline.
"You can change an injector and see how it will affect a backhoe loader's digging capability," says Bielenberg.
Caterpillar's expertise in hydraulics and electronics has another application. "We are looking at hydraulic valve trains," says Bielenberg. This means an engine without camshafts, where each valve and injector is controlled electronically for optimum power and engine braking performance. "We will be able to provide a complete system," he adds. Other manufacturers are working on the idea, but Bielenberg says "our goal is not to be a me-too kind of product".