EDUCATION TRAINING
2nd September 1977
Page 62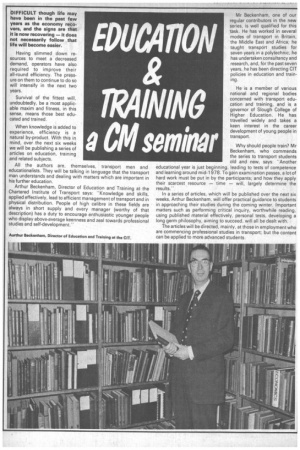 Page 62, 2nd September 1977 —
EDUCATION TRAINING
Close
a CM seminar
DIFFICULT though life may have been in the past few years as the economy recovers, and the signs are that it is now recovering — it does not necessarily follow that life will become easier.
Having slimmed down resources to meet a decreased demand, operators have also required to improve their all-round efficiency. The pressure on them to continue to do so will intensify in the next two years.
Survival of the fittest will, undoubtedly, be a most applicable maxim and fitness, in this sense, means those best educated and trained.
When knowledge is added to experience, efficiency is a natural by-product. With this in mind, over the next six weeks we will be publishing a series of articles on education, training and related subjects. • All the authors are, themselves, transport men and educationalists. They will be talking in language that the transport man understands and dealing with matters which are important in his further education.
Arthur Beckenham, Director of Education and Training at the Chartered Institute of Transport says: ''Knowledge and skills, applied effectively, lead to efficient management of transport and in physical distribution. People of high calibre in these fields are always in short supply and every manager (worthy of that description) has a duty to encourage enthusiastic younger people who display above-average keenness and zeal towards professional studies and self-development." Mr Beckenham, one of our regular contributors in the new series, is well qualified for this task. He has worked in several modes of transport in Britain, the Middle East and Africa; he taught transport studies for seven years in a polytechnic; he has undertaken consultancy and research, and, for the past seven years, he has been directing CIT policies in education and training.
He is a member of various national and regional bodies concerned with transport education and training, and is a governor of Slough College of Higher Education. He has travelled widely and takes a keen interest in the career development of young people in transport.
Why should people train? Mr Beckenham, who commends the series to transport students old and new, says: "Another educational year is just beginning, leading to tests of competence and learning around mid-1978. To gain examination passes, a lot of hard work must be put in by the participants; and how they apply their scarcest resource — time — will, largely determine the results."
In a series of articles, which will be published over the next six weeks, Arthur Beckenham, will offer practical guidance to students in approaching their studies during the coming winter. Important matters such as performing critical inquiry, worthwhile reading, using published material effectively, personal tests, developing a long germ philosophy, aiming to succeed, will all be dealt with.
The articles will be directed, mainly, at those in employment who are commencing professional studies in transport; but the content can be applied to more advanced students.