...editor lain Sherrif went to the Isle of Dogs to visit a irm with a fint-class Pedigree
2nd September 1977
Page 57
Page 58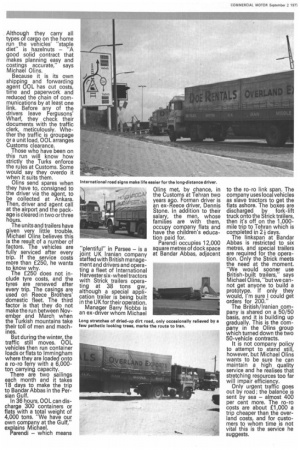 Page 57, 2nd September 1977 —
...editor lain Sherrif went to the Isle of Dogs to visit a irm with a fint-class Pedigree
Close
Crusaders and Merriworth trailers.
Traffics consist of general goods, chemicals, and vehicles in ckd form. Runs are made to Iran, Iraq and Saudi Arabia.
The decision by German Federal Railways to close down the Cologne — Ljubljana piggy-back service in June was a blow to 00L. It was a big user and had designed its trailers, at considerable cost, to meet the restricted headroom on the Yugoslav railway tunnels. So the entire operation had to be rejigged overnight and a new and longer route designed. OOL vehicles now go through Har wich to Bremmerhaven on Prinz Lines, then via West Germany, East Germany, Czechoslovakia, Hungary, Yugoslavia, Bulgaria and Turkey.
Simplicity The company's Scammell Crusader sleeper-cabs are not at all sophisticated. They have one bunk, a calor gas grill and two-ring plate, and that's it. "The drivers know their documentation and currency requirements and they go ahead and get on with the job as they did on the domestic work," according to Mr Olins.
The domestic work to which he refers is UK trunking because the 15 Middle East men were recruited from another Olins company, Reece Brothers Ltd, where Mr Harry Olins is managing director. The men will be given the chance to return to domestic trunking, one day. In the meantime, they make the 7,000-mile roundtrip to Tehran in four weeks, but receive five weeks' pay and, on return, have a week's holiday on full pay. A run to Baghdad can be completed in three weeks, but Olins' men are paid for four and still have a week off on full pay.
Much of the delay on a Middle East run is caused through looking for backloads. Olins has solved this problem through its Turkish and Austrian agents. In almost every case before the men leave the UK, they know what they are picking up and from where on the return leg. So costly downtime is reduced.
Diet of nuts Another cause of delay is the Iranian Turkish border — there was a hold-up of 31 days there recently. Empty vehicles clear this post in hours rather than days as OOL policy is to run back as far as Ankara empty. Although they carry all types of cargo on the home run the vehicles' "staple diet" is hazelnuts — "A good solid contract that makes planning easy and costings accurate," says Michael Olins.
Because it is its own shipping and forwarding agent OOL has cut costs, time and paperwork and reduced the chain of communications by at least one link. Before any of the drivers leave Fergusons' Wharf, they check their documents with the traffic clerk, meticulously. Whether the traffic is groupage or a unit load, OOL arranges Customs clearance.
Those who have been on this run will know how strictly the Turks enforce the rules at Customs. Some would say they overdo it when it suits them.
Olins send spares when they have to, consigned to the driver via the agent, to be collected at Ankara, Then, driver and agent call at the airport and the package is cleared in two or three hours.
The units and trailers have given very little trouble. Michael Olins believes this is the result of a number of factors. The vehicles are fully serviced after every trip. If the service costs more than £250, he wants to know why. The £250 does not include tyre costs, and the tyres are renewed after every trip. The casings are used on Reece Brothers' domestic fleet. The third factor is that they do not make the run between November and March when the Turkish mountains take their toll of men and machines.
But during the winter, the traffic still moves. OOL vehicles then run container loads or flats to Immingham where they are loaded onto a ro-ro ferry with a 6,000ton carrying capacity. There are two sailings each month and it takes 18 days to make the trip to Bandar Abbas in the Persian Gulf.
In 36 hours, OOL can discharge 300 containers or flats with a total weight of 4,000 tons. "We have our own company at the Gulf," explains Michael. Parendi — which means "plentiful" in Parsee — is a joint UK Iranian company staffed with British management and drivers and operating a fleet of International Harvester six-wheel tractors with Strick trailers operating at 38 tons gw, although a special application trailer is being built in the UK for their operation. Manager Barry Nobbs is an ex-driver whom Michael Olins met, by chance, in the Customs at Tehran two years ago. Forman driver is an ex-Reece driver, Dennis Stone. In addition to their salary, the men, whose families are with them, occupy company fiats and have the children's education paid for. Parendi occupies 12,000 square metres of dock space at Bandar Abbas, adjacent to the ro-ro link span. The company uses local vehicles as slave tractors to get the flats ashore. The boxes are discharged by fork-lift truck onto the Strick trailers, then it's off on the 1,000mile trip to Tehran which is completed in 2 days. The linkspan at Bandar Abbas is restricted to six metres, and special trailers are required for the operation. Only the Strick meets the need at the moment. "We would sooner use British-built trailers," says Michael Olins, "but we cannot get anyone to build a prototype. If only they would, I'm sure I could get orders for 200."
The British/Iranian company is shared on a 50/50 basis, and it is building up gradually. This is the company in the Olins group which turned down the two 50-vehicle contracts.
It is not company policy to attempt to stand still, however, but Michael Olins wants to be sure he can maintain a high quality service and he realises that stretching resources too far will impair efficiency. Only urgent traffic goes out by road ; the balance is sent by sea — almost 400 per cent more. The ro-ro costs are about £1,000 a trip cheaper than the overland costs, and for customers to whom time is not vital this is the service he suggests.