Private operator wins PTE battle
2nd September 1977
Page 32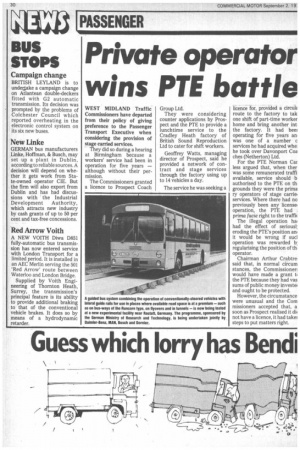 Page 32, 2nd September 1977 —
Private operator wins PTE battle
Close
Keywords :
WEST MIDLAND Traffic Commissioners have departed from their policy of giving preference to the Passenger Transport Executive when considering the provision of stage carried services.
They did so during a hearing at Birmingham because a workers' service had been in operation for five years — although without their permission.
The Commissioners granted a licence to Prospect Coach Group Ltd.
They were considering counter applications by Prospect and the PTE to provide a lunchtime service to the Cradley Heath factory of British Sound Reproduction Ltd to cater for shift workers.
Geoffrey Watts, managing director of Prospect, said he provided a network of contract and stage services through the factory using up to 14 vehicles a day.
The service he was seeking a licence for, provided a circule route to the factory to tak one shift of part-time worker home and bring another int the factory. It had beet operating for five years an was one of a number c services he had acquired whe: he took over Davonport Coo ches (Netherton) Ltd.
For the PTE Norman Car less argued that, when ther was some remunerated traffi available, service should b authorised to the PTE on th grounds they were the prima ry operators of stage carriei services. Where there had no previously been any license( operation, the PTE had ; prima facie right to the traffic The illegal operation ha( had the effect of serious!: eroding the PTE's position an it would be wrong if sucl operation was rewarded b: regularising the position of th, operator.
Chairman Arthur Crabtre, said that, in normal circum stances, the Commissioner: would have made a grant t( the PTE because they had vas sums of public money investe( and ought to be protected.
However, the circumstance were unusual and the Corn missioners accepted that, a soon as Prospect realised it di( not have a licence, it had takei steps to put matters right.