PASSENGER TRAVEL NEWS.
2nd September 1924
Page 24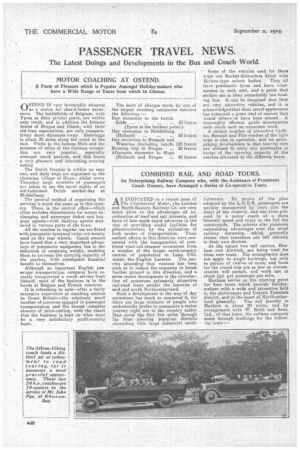 Page 24, 2nd September 1924 —
PASSENGER TRAVEL NEWS.
Close
The Latest Doings and Developments in the Bus and Coach World.
MOTOR COACHING AT OSTEND.
A Form of Pleasure which is Popular Amongst Holiday-makers who have a Wide Range of Tours from which to Choose.
OSTEND IS very favourably situated as a centre for char-ii-banes excursions. The battlefields of Belgium, with Ypres as their pivotal point, are within easy reach, and in addition the historic towns of Bruges and Ghent, with their old-time associations, are only comparatively short distances away. Zeebrugge is about 20 miles along the coast to the east. Visits to the famous Mole and the museum of relics of the German occupation are very popular, especially amongst coach patrons, and this forms a very pleasant and interesting evening outing.
The Dutch frontier is within an easy run, and daily trips are organized to the charming village of Slays; whilst every Thursday large numbers of passengers are taken to see the novel sights of an old-fashioned Dutch market-day at Middelburg.
The general method of organizing the services is much the same as in this coon,try. There is the central office—which often includes departments for money exchanging and passenger ticket and baggage agents—with booking agents scattered in various parts of the town.
All the coaches in regular use are fitted with pneumatic tyres and twins are mostly used on the rear wheels. Coach owners have found that a very important advantage of pneumatic equipment lies in the reduction of unsprung weight, enabling them to increase the carrying capacity of the coaches, with consequent financial benefit to themselves.
Although an important English passenger transportation company have recently inaugurated a coach service from Ostend, most of the business is in the hands of Belgian and French concerns.
It is refreshing to note—after a fairly extensive experience of coaching centres in Great Britain—the relatively small number of concerns engaged in passenger transportation and the almost complete absence e price-cutting, with the result that the business is kept on what must be a very satisfactory profit-earning basis.
The Scale of charges made by one of the largest coaching companies contains the following : Day excursion to the battle fields ... ". 60 francs (Ypres is the farthest point.) Day excursion to Middelburg (Holland) 60 francs Day excursion to Brussels and Waterloo (including lunch) 120 francs Evening trip to Bruges ... 30 francs Afternoon excursion to Slays (Holland) and Bruges ... 45 francs Some of the vehicles used for these trips are Rochet-Schneiders fitted with.
Riviera-type saloon bodies. They all have pneumatic tyres and have windscreens to each seat, and a point that strikes one is their remarkably low-loading line. It can be imagined that they are very attractive vehicles, and it is acknowledged that their smart appearance has attracted a great deal of custom that would otherw.se have been missed. A thoroughly efficient guide accompanies each coach nsed on excursion work.
A certain number of attractive Cadillac, Renault and Fiat coaches of the light type is also in operation, and an enterprising development is that touring cars are utilized to carry any passengers in excess of the carrying capacity of the coaches allocated to the different tours.