Answers to Queries.
2nd September 1909
Page 17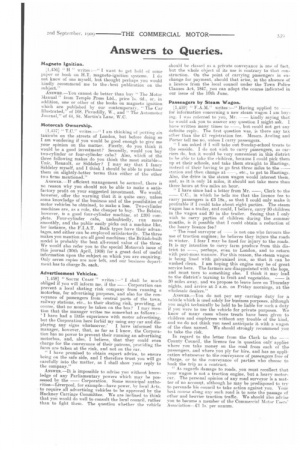 Page 17, 2nd September 1909 —
Answers to Queries.
Close
Magneto Ignition.
.456]" H" writes:—" I want to get hold of some paper or book on H,T. magneto-ignition systems. I do not know of one myself, but thought perhaps you would kindly recommend me to the • best publication on the subject."
stsswen.—You cannot do better than buy "The Motor Manual " from Temple Press Ltd., price is. 6d., or, in addition, one or other of the books on magneto ignition which are published by our contemporary, " The Car Illustrated," of 168, Piecadilly, W., and " The Automotor Journal," of 44, St. Martin's Lane, W.C.
Motorcab Ownership.
1.1,4;i7] " LC." writes :—" I am thinking of putting six taxicabs on the streets of London, but before doing so I am wondering if you would be good enough to give me your opinion on the matter. Firstly, do you think it would be a good investment ? Secondly, would you buy two-cylinder or four-cylinder cabs ? Also, which of the three following makes do you think the most suitable Unice Renault, or Siddeley? I may say that I fancy Siddeley myself, and I think I should be able to purchase them on slightly-better terms than either of the other two firms mentioned."
ANsweit.—If efficient management be secured, there is no reason why you should not be able to make a satisfactory profit on your suggested investment. We would, however, offer the warning that it is quite easy, unless some knowledge of the business and of the possibilities of motor vehicles be obtained, to make a lass. Two-cylinder machines are, as a rule, the cheaper to buy. The Belsize, however, is a good four-cylinder machine, at £395 complete. Four-cylinder cabs, undoubtedly, run more smoothly, and the public easily picks out a machine like, for instance, the F.I.A.T. Both types have their advantages, and either can be employed satisfactorily. The three makes you mention are all good machines; the British-built model is probably the best all-round value of the three. We would also refer you to the special Motorcah issue of this journal (30th April, 1908) for a great deal of useful information upon the subject on which you are enquiring. Only seven copies are now left, and our business department has to charge 3s. each.
Advertisement Vehicles.
:.1,458] " SOUTH COAST " writes :—" I shall he nitwit obliged if you will inform me, if the — Corporation can prevent a local skating rink company from running a motorbus, for advertising purposes, and also for the conveyance of passengers from central parts of the town, railway stations, etc., to their skating rink, providing, of course, that no money be taken on the bus ? I may mention that the manager writes me somewhat as follows
I have had a little experience with motor advertising, but the Corporation here forbid my using any car and dis playing any signs whatsoever.' I have informed the manager, however, that, as far as I know, the Corporation has no power to prevent their running an advertising motorbus, and, also, I believe, that they could even charge for the conveyance of their patrons, providing the fares are taken at the rink, and not on the ear.
" I have promised to obtain expert advice, to ensure being on the safe side, and I therefore trust you will go carefully into the matter, as I shall show your reply to the company."
Aerswen.—It is impossible to advise you without knowledge of any Parliamentary powers which may be possessed by the — Corporation. Some municipal authorities—Liverpool, for example—have power, by lora] Acts. • to require all advertising vehicles to be approved by the Hackney Carriage Committee. We are inclined to think that you would do e-ell to consult the local council, rather than to fight them. The question whether the vehicle should be claseed as a private conveyance is one of fact, but the whole object of its use is contrary to that construction. On the point of carrying passengers in exchange for payment, should that arise, in the absence of a licence from the local council under the Town Police Clauses Act, 1847, you can adopt the course indicated in our issue of the 10th June.
Passengers by Steam Wagon.
L1,459.] " F.A.M." writes :—" Having applied to --for information concerning a new steam wagon I am buying. I was referred to you, Mr. — kindly saying that lie would ask you to answer any question I might ask. I have written many times to —, but could not get any definite reply. The first question was, is there any tax other than the 1:1 registration fee. Messrs. Aveling and Porter tell me no, unless I carry passengers.
" I am asked if I will take out Sunday-school treats to the seaside. I do not wish to carry passengers, as carriers do, but it would be very convenient in this district to be able to take the children, because I could pick them up at their schools, and take them straight to Hastings, instead of their having to go first three miles to the station and then change at ---, etc., to get to Hastings. Also, the drive in the steam wagon would interest them, and, as it is only 14 miles, it should not take more than three hours at five miles an hour.
" I have since had a letter from Mr. --, Clerk to the — C.C., in which he tells me that the licence fee to carry passengers is £3 18s., so that I could only make it profitable if I could take about eight parties. The steam wagon has a trailer, and could, I believe, carry 30 children in the wagon and 30 in the trailer. Seeing that I only wish to carry parties of children during the summer months, is it possible that I could obtain a reduction of the heavy licence fee?
" The road surveyor of — is not one who favours the use of traction engines; he believes they injure the roads in winter. I fear I may be lined for injury to the roads. It is my intention to carry farm produce from this district to —, perhaps, even to London, and to return with peat-moss manure. For this reason, the steam wagon is being lined with galvanized iron, so that it can be washed clean. I am hoping this engine may be of great service here. The farmers are disappointed with the hops, and must turn to something else. I think it may lead to the district's turning to fruit and vegetables. — is 30 miles away, and we propose to leave here on Thursday nights, and arrive at 5 a.m. on Friday mornings, at the wholesale dealers."
ANswEn.—You do not pay any carriage duty for a vehicle which is used solely for business purposes, although you might technically be held to be liable for such a duty if you were to use the vehicle for private purposes. We know of many cases where treats have been given to children and employees without any trouble of the kind, and we. do not think you need anticipate it with a wagon of the class named. We should strongly recommend you to take the risk.
In regard to the letter from the Clerk to the -County Council, the licence fee in question only applies where you take money on the road from each of the passengers, and where von ply for hire, and has no application whatsoever to the conveyance of passengers free of charge. or to the conveyance of parties who choose to book the trip as a contract.
" As regards damage to roads, you must recollect that your wagon is not a traction engine, but a heavy motorcar. The personal opinion of any road surveyor is a lentter of no account, although he may be predisposed to try to persuade his council to take action against you. Your best course along any such road is to note the passage of other and heavier traction traffic. We should also advise you to become a member of the Commercial Motor Users' ls: per annum.