Fire-Brigade Matters.
2nd September 1909
Page 12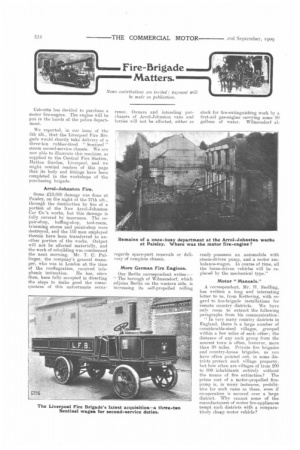 Page 13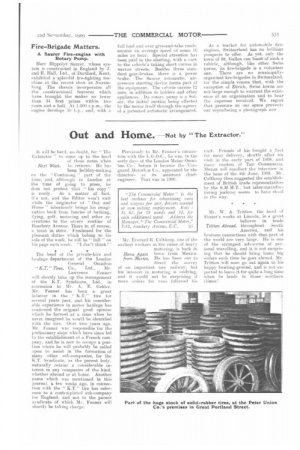 Page 12, 2nd September 1909 —
Fire-Brigade Matters.
Close
News contributions are invited : Payment will be made on publication.
Calcutta has decided to purchase a motor fire-engine. The engine will be put in the hands of the police department.
We reported, in our issue of the 5th ult., that the Liverpool Fire Brigade would shortly take delivery of a three-ton rubber-tired " Sentinel " steam second-service chassis. We are now able to illustrate this machine, as supplied to the Central Fire Station, Hatton Garden, Liverpool, and we might remind readers of this page that its body and fittings have been completed in the workshops of the purchasing brigade.
Arrol-Johnston Fire.
Some £10,000 damage was done at Paisley, on the night of the 27th ult., through the destruction by fire of a portion of the New Arrol-Johnston Car Co.'s works, but this damage is fully covered by insurance. The repair-shop, buffing-shop, tool-room, trimming stores and paint-shop were destroyed, and the 150 men employed therein have been transferred to another portion of the works. Output will not be affected materially, and the work of rebuilding was commenced the next morning. Mr. T. C. Pullinger, the company's general manager, who was in London at the time of the conflagration, received tele phonic intimation. He has, since then, been fully occupied in directing the steps to make good the consequences of this unfortunate occur
rence. Owners and intending purchasers of Arrol-Johnston vans and lorries is-ill not be affected, either as
regards spare-part renewals or delivery of complete chassis.
More German Fire Engines.
Our Berlin correspondent writes:— " The borough of Wilmersdorf, which adjoins Berlin on the western side, is increasing its self-propelled rolling
stock for fire-extinguishing work by a first-aid gas-engine carrying some 90 gallons of water. Wilmersdorf al ready possesses an automobile with steam-driven pump, and a motor ambulance-wagon. In course of time, all the horse-driven vehicles will be replaced by the mechanical type."
Motor "Manuals."
A correspondent, Mr. II. Snelling, has written a long and interesting letter to us, from Kettering, with regard to fire-brigade installations for remote country districts. We have only room to extract the following paragraphs from his communication:
"In very many country districts in England, there is a large number of considerable-sized villages, grouped within a few miles of each other ; the distance of any such group from the nearest town is often, however, more than 30 miles. Private fire brigades and country-house brigades, as you have often pointed out, in some districts protect such village property, but how often are villages of from 200 to 600 inhabitants entirely without the means of fire extinction ? The prime cost of a motor-propelled firepump is, in many instances, prohibitive for such eases as these, even if co-operation is secured over a large district. Why cannot some of the manufacturers of motor fire-appliances tempt such districts with a comparatively cheap motor vehicle?
Fire-Brigade Matters.
A Saurer Fire-engine with Rotary Pump.
Herr Hippolyt Saurer, whose system is constructed in England by J. and E. Hall, Ltd., of Dartford, Kent, exhibited a splendid fire-fighting machine at the recent show at Nuremberg. The chassis incorporates all tile constructional features which have brought the maker no fewer than 34 first prizes within two years and a half. At 1,000 r.p.m., the engine develops 30 lip., and, with a full load and over give-and-take roads. secures an average speed of some lt3 miles an hour. Special attention has been paid to the steering, with a. view to the vehicle's taking short curves in narrow streets. Besides three standard gear-brakes, there is a power brake. The Saurer automatic, airpressure starting device forms part of the eylipment. The vehicle carries 12 men, in addition to ladders and other appliances. It rotary pump is a Sulzer, the initial suction being effected by the motor itself through the agency of a patented automatic arraugement. As a market for automobile fit-c-engines, Switzerland has no brilliant prospects to offer. As yet, only the town of St. Gallen can boast of such a vehicle, although, like other Swiss towns, its fire-brigade is a. volunteer one. There are no municipallyorganized fire-brigades in Switzerland, for the simple reason that, with the exception of Zurich, Swiss towns are not large enough to warrant the existence of an organization and to bear the expenses involved. We regret that pressure on our space prevents our reproducing a photograph now.