Oliver disqualification overturned by Tribunal
2nd October 2008
Page 26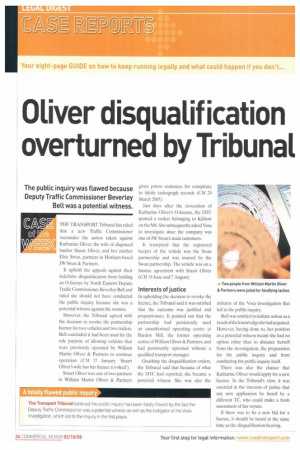 Page 26, 2nd October 2008 —
Oliver disqualification overturned by Tribunal
Close
The public inquiry was flawed because Deputy Traffic Commissioner Beverley Bell was a potential witness.
THE TRANSPORT Tribunal has ruled that a new Traffic Commissioner reconsider the action taken against Katharine Oliver, the wife of disgraced haulier Stuart Oliver, and her mother Elsie Swan, partners in Hexham-based JW Swan & Partners.
It upheld the appeals against their indefinite disqualification from holding an 0-licence by North Eastern Deputy Traffic Commissioner Beverley Bell and ruled she should not have conducted the public inquiry because she was a potential witness against the women.
However, the Tribunal agreed with the decision to revoke the partnership licence for two vehicles and two trailers. Bell concluded it had been used for the sole purpose of allowing vehicles that were previously operated by William Martin Oliver & Partners to continue operation (CM 17 January 'Stuart Oliver's wife has her licence revoked).
Stuart Oliver was one of two partners in William Martin Oliver & Partners given prison sentences for conspiracy to falsify tachograph records (CM 24 March 2005).
Just days after the revocation of Katharine Oliver's 0-licence, the DTC spotted a tanker belonging to Ki'frost on the M6. She subsequently asked Vosa to investigate since the company was one of JW Swan's main customers.
It transpired that the registered keeper of the vehicle was the Swan partnership and was insured by the Swan partnership. The vehicle was on a finance agreement with Stuart Oliver (CM 19 June and 7 August) Interests of justice
In upholding the decision to revoke the licence, the Tribunal said it was satisfied that the outcome was justified and proportionate. It pointed out that the partnership had persistently used an unauthorised operating centre at Bardon Mill, the former operating centre of William Oliver & Partners, and had persistently operated without a qualified transport manager.
Quashing the disqualification orders, the Tribunal said that because of what the DTC had reported, she became a potential witness. She was also the initiator of the Vosa investigation that led to the public inquiry.
Bell was entitled to initiate action as a result of the knowledge she had acquired. However, having done so, her position as a potential witness meant she had no option other than to distance herself from the investigation, the preparation for the public inquiry and from conducting the public inquiry itself.
There was also the chance that Katharine Oliver would apply for a new licence. In the Tribunal's view, it was essential in the interests of justice that any new application be heard by a different TC, who could make a fresh assessment of her repute.
If there was to be a new bid for a licence, it should be heard at the same time as the disqualification hearing.