The crusader king
2nd October 2008
Page 22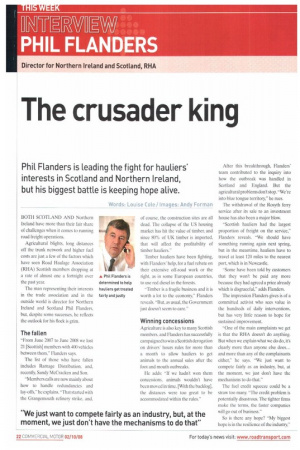 Page 23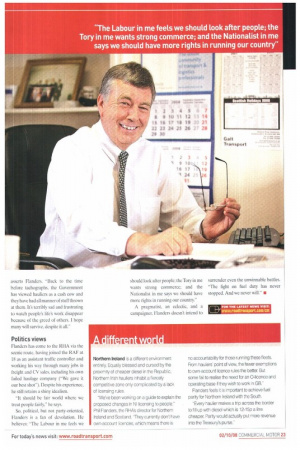 Page 22, 2nd October 2008 —
The crusader king
Close
Phil Flanders is leading the fight for hauliers' interests in Scotland and Northern Ireland, but his biggest battle is keeping hope alive.
Words: Louise Cole / Images; Andy Forman
BOTH SCOTLAND AND Northern Ireland have more than their fair share of challenges when it comes to running road freight operations.
Agricultural blights, long distances off the trunk network and higher fuel costs are just a few of the factors which have seen Road Haulage Association (RHA) Scottish members dropping at a rate of almost one a fortnight over the past year.
The man representing their interests in the trade association and in the outside world is director for Northern Ireland and Scotland Phil Flanders, but, despite some successes, he reflects the outlook for his flock is grim.
The fallen "From June 2007 to June 2008 we lost 21 'Scottish] members with 400 vehicles between them," Flanders says.
The list of those who have fallen includes Ramage Distribution, and, recently, Sandy McCracken and Son.
"Members calls are now mainly about how to handle redundancies and lay-offs," he explains. "That started with the Grangemouth refinery strike, and. of course, the construction sites are all dead. The collapse of the US housing market has hit the value of timber, and since 80% of UK timber is imported, that will affect the profitability of timber hauliers."
Timber hauliers have been fighting, with Flanders' help, for a fuel rebate on their extensive off-road work or the right, as in some European countries, to use red diesel in the forests.
"Timber is a fragile business and it is worth a lot to the economy," Flanders reveals. "But, as usual, the Government just doesn't seem to care."
Winning concessions Agriculture is also key to many Scottish members, and Flanders has successfully campaigned to win a Scottish derogation on drivers' hours rules for more than a month to allow hauliers to get animals to the annual sales after the foot and mouth outbreaks.
He adds: "If we hadn't won them concessions, animals wouldn't have been moved in time. [With the backlog], the distances were too great to be accommodated within the rules." After this breakthrough, Flanders' team contributed to the inquiry into how the outbreak was handled in Scotland and England. But the agricultural problems don't stop. "We're into blue tongue territory," he rues.
The withdrawal of the Rosyth ferry service after its sale to an investment house has also been a major blow.
"Scottish hauliers had the largest proportion of freight on the service," Flanders reveals. "We should have something running again next spring, but in the meantime, hauliers have to travel at least 120 miles to the nearest port, which is in Newcastle.
"Some have been told by customers that they won't be paid any more because they had agreed a price already which is disgraceful," adds Flanders.
The impression Flanders gives is of a committed activist who sees value in the hundreds of daily interventions, but has very little reason to hope for sustained improvement.
"One of the main complaints we get is that the RHA doesn't do anything. But when we explain what we do do, it's clearly more than anyone else does... and more than any of the complainants either," he says. "We just want to compete fairly as an industry, but. at the moment, we just don't have the mechanisms to do that."
The fuel credit squeeze could be a straw too many. "The credit problem is potentially disastrous. The tighter firms make the terms, the faster companies will go out of business."
So is there any hope? "My biggest hope is in the resilience of the industry," asserts Flanders. "Back to the time before tachographs, the Government has viewed hauliers as a cash cow and they have had all manner of stuff thrown at them. It's terribly sad and frustrating to watch people's life's work disappear because of the greed of others. I hope many will survive, despite it all."
Politics views Flanders has come to the RHA via the scenic route, having joined the RAF at 18 as an assistant traffic controller and working his way through many jobs in freight and CV sales, including his own failed haulage company ("We gave it our best shot"). Despite his experience, he still retains a shiny idealism.
"It should be fair world where we treat people fairly," he says.
So. political, but not party-oriented, Flanders is a fan of devolution. He believes: -The Labour in me feels we