All-singing, all-dancing new entrants make their debut
2nd October 2008
Page 16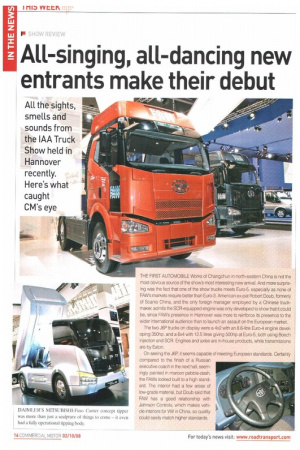 Page 18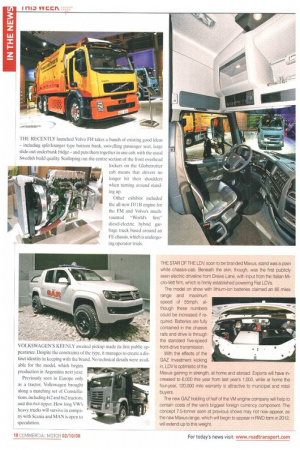 Page 19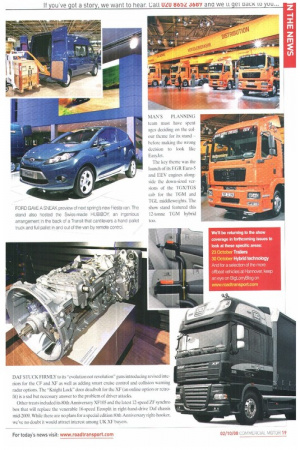 Page 16, 2nd October 2008 —
All-singing, all-dancing new entrants make their debut
Close
All the sights, 114 smells and sounds from the IAA Truck Show held in Hannover recently. Here's what caught CM's eye
THE FIRST AUTOMOBILE Works of Changchun in north-eastern China is not the most obvious source of the shows most interesting new arrival, And more surprising was the fact that one of the show trucks meets Euro-5, especially as none of FAW's markets require better than Euro-3. American ex-pat Robert Doub, formerly of Scania China, and the only foreign manager employed by a Chinese truckmaker, admits the KR-equipped engine was only developed to show that it could be, since FAW's presence in Hannover was more to reinforce its presence to the wider international audience than to launch an assault on the European market.
The two J6P trucks on display were a 4x2 with an 8.6-litre Eurc-4 engine developing 350hp, and a 6x4 with 12.5 litres giving 500hp at Euro-5, both using Bosch injection and SCR Engines and axles are in-house products, while transmissions are by Eaton.
On seeing the J6P, it seems capable of meeting European standards. Certainly compared to the finish of a Russian executive coach in the next hall, seemingly painted in maroon pebble-dash, the FAWs looked built to a high standard. The interior had a few areas of low-grade material, but Doub said that FAVV has a good relationship with Johnson Controls, which makes vehicle interiors for VW in China, so quality could easily match higher standards. THE RECENTLY launched Volvo FH takes a bunch of existing good ideas — including split/lounger type bottom bunk, swivelling passenger seat, large slide-out underbunk fridge — and puts them together in one cab, with the usual Swedish build quality. Scalloping out the centre section of the front overhead lockers on the Globetrotter cab means that drivers no longer hit their shoulders when turning around standing up.
Other exhibits included the all-new DilB engine for the FM and Volvo's muchvaunted "World's firstdiesel-electric hybrid garbage truck based around an FE chassis, which is undergoing operator trials.
VOLKSWAGEN'S KEENLY awaited pickup made its first public appearance. Despite the constraints of the type, it manages to create a distinct identity in keeping with the brand. No technical details were available for the model, which begins production in Argentina next year.
Previously seen in Europe only as a tractor, Volkswagen brought along a matching set of Constellations, including 4x2 and 6x2 tractors, and this 6x4 tipper. How long VVV's heavy trucks will survive in company with Scania and MAN is open to speculation.
THE STAR OF THE LDV, soon to be branded Maxus, stand was a plain white chassis-cab. Beneath the skin, though, was the first publicly seen electric driveline from Drews Lane, with input from the Italian Micro-Vett firm, which is firmly established powering Fiat LCVs.
The model on show with lithium-ion batteries claimed an 85 miles range and maximum speed of 55mph, although these numbers could be increased if required. Batteries are fully contained in the chassis rails and drive is through the standard five-speed front-drive transmission.
With the effects of the GAZ investment kicking in, WV is optimistic of the Maxus gaining in strength, at home and abroad. Exports will have increased to 6,000 this year from last year's 1,000, while at home the four-year, 120,000 mile warranty is attractive to municipal and retail buyers.
The new GAZ holding of half of the VM engine company will help to contain costs of the van's biggest foreign currency component. The concept 7.5-tanner seen at previous shows may not now appear, as the new Maxus range, which will begin to appear in RWD form in 2012, will extend up to this weight. FORD GAVE A SNEAK preview of next spring's new Fiesta van. The stand also hosted the Swiss-made HUBBOY, an ingenious arrangement in the back of a Transit that cantilevers a hand pallet truck and full pallet in and out of the van by remote control.
DAF STUCK FIRMLY to its "evolution not revolution" guns introducing revised interiors for the CF and XF as well as adding smart cruise control and collision warning radar options. The "Knight Lock" door deadbolt for the XF (an online option or retrofit) is a sad but necessary answer to the problem of driver attacks.
Other treats included its 80th Anniversary XF105 and the latest 12-speed ZF synchro box that will replace the venerable I 6-speed Ecosplit in right-hand-drive Oaf chassis mid-2009. While there are no plans for a special edition 80th Anniversary right-hooker, we've no doubt it would attract interest among UK XF buyers.
MAN'S PLANNING team must have spent ages deciding on the colour theme for its stand — before making the wrong decision to look like EasyJet.
The key theme was the launch of its FOR Euro-5 and EEV engines alongside the down-sized versions of the TGX/TGS cab for the TOM and TGL middleweights. The show stand featured this 12-tonne TGM hybrid too.