Training session
2nd October 2008
Page 14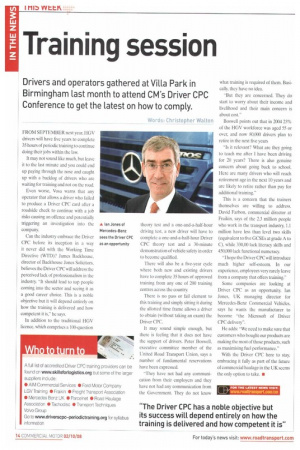 Page 14, 2nd October 2008 —
Training session
Close
Drivers and operators gathered at Villa Park in Birmingham last month to attend CM's Driver CPC Conference to get the latest on how to comply.
Words: Christopher Walton FROM SEPTEMBER next year. HGV drivers will have five years to complete 35 hours of periodic training to continue doing their jobs within the law.
It may not sound like much, but leave it to the last minute and you could end up paying through the nose and caught up with a backlog of drivers who are waiting for training and not on the road.
Even worse, Vosa warns that any operator that allows a driver who failed to produce a Driver CPC card after a roadside check to continue with a job risks causing an offence and potentially triggering an investigation into the company.
Can the industry embrace the Driver CPC before its inception in a way it never did with the Working Time Directive (WTD)? James Backhouse. director of Backhouse Jones Solicitors, believes the Driver CPC will address the perceived lack of professionalism in the industry. "It should lead to top people coming into the sector and seeing it as a good career choice. This is a noble objective but it will depend entirely on how the training is delivered and how competent it is," he says.
In addition to the traditional HGV licence, which comprises a 100-question theory test and a one-and-a-half-hour driving test, a new driver will have to complete a one-and-a-half-hour Driver CPC theory test and a 30-minute demonstration of vehicle safety in order to become qualified.
There will also be a five-year cycle where both new and existing drivers have to complete 35 hours of approved training from any one of 200 training centres across the country.
There is no pass or fail element to this training and simply sitting it during the allotted time frame allows a driver to obtain (without taking an exam) the Driver CPC.
It may sound simple enough, but there is feeling that it does not have the support of drivers. Peter Boswell, executive committee member of the United Road Transport Union, says a number of fundamental reservations have been expressed.
"They have not had any communication from their employers and they have not had any communication from the Government. They do not lcnov, what training is required of them. Basically, they have no idea.
"But they are concerned. They do start to worry about their income and livelihood and their main concern is about cost."
Boswell points out that in 2004 23% of the HGV workforce was aged 55 or over, and now 80,000 drivers plan to retire in the next five years "Is it relevant? What are they going to teach me after I have been driving for 20 years? There is also genuine concern about going back to school. Here are many drivers who will reach retirement age in the next 10 years and are likely to retire rather than pay for additional training."
This is a concern that the trainers themselves are willing to address. David Farbon, commercial director at Fraikin, says of the 2.3 million people who work in the transport industry, 1.1 million have less than level two skills (equivalent to five GCSEs at grade A to C), while 330,00 lack literacy skills and 450,000 lack functional numeracy.
"I hope the Driver CPC will introduce much higher self-esteem. In our experience, employees very rarely leave from a company that offers training."
Some companies are looking at Driver CPC as an opportunity. Ian Jones, UK managing director for Mercedes-Benz Commercial Vehicles, says he wants the manufacturer to become "the Microsoft of Driver CPC delivery".
He adds: "We need to make sure that customers who bought our products are making the most of those products, such as maximising fuel performance."
With the Driver CPC here to stay, embracing it fully as part of the future of commercial haulage in the UK seems the only option to take. •