Police trial A20 Stack to stop city gridlock
2nd October 2008
Page 12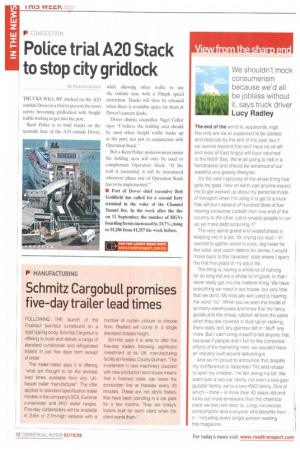 Page 12, 2nd October 2008 —
Police trial A20 Stack to stop city gridlock
Close
Keywords :
Kent
,
Counties Of England
,
Dover
,
Transport In Ashford, Kent
,
Transport In Kent
,
Operation Stack
,
Shepway
,
Port Of Dover
,
Kent Police
,
Channel Tunnel Fire
By Roanna Avison TRUCKS WILL BE stacked on the A20 outside Dover in a trial to prevent the town centre becoming gridlocked with freight traffic waiting to get into the port.
Kent Police is to hold trucks on the nearside lane of the A20 outside Dover, while allowing other traffic to use the outside lane with a 50mph speed restriction. Trucks will then be released when there is available space for them at Dover's eastern docks.
Dover district councillor Nigel Collor says: "I believe the holding area should be used when freight traffic backs up at the port, not just in conjunction with Operation Stack."
But a Kent Police spokeswoman insists the holding area will only be used to complement Operation Stack. "If the trail is successful, it will be introduced whenever phase one of Operation Stack has to be implemented."
• Port of Dover chief executive Bob Goldfield has called for a second ferry terminal in the wake of the Channel Tunnel fire. In the week after the fire on 11 September, the number of HGVs boarding ferries increased by 33,7%, rising to 55,286 from 41,357 the week before.