The Admiralty Buys Extensible Trailers
2nd October 1936
Page 49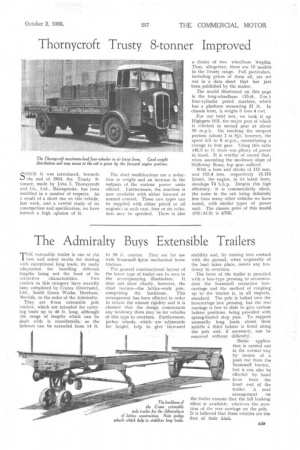 Page 49, 2nd October 1936 —
The Admiralty Buys Extensible Trailers
Close
THE extensible trailer is one of the best and , safest media for dealing with exceptional long loads, its ready adaptation for handling different lengths being not the least of its
attractive characteristics. Two trailers in this category have recently been completed by Cranes (Dereharn), Ltd., South Green Works, Dereham, Norfolk, to the order of the Admiralty.
They are 8-ton extensible pole trailers, which are intended for carrying loads up to 40 ft. long, although the range of lengths which can be dealt with is considerable,' as the bolsters can be extended from 14 ft. to 28 ft. centres. They are for use with Scammell Nton mechanical horse tractors.
The .general constructional layout of the latest type of trailer can be seen in the accompanying illustration. It does not show clearly, however, the chief feature—the lattice-work pole, comprising the backbone. This arrangement has been effected in order to obtain the utmost rigidity and it is claimed that the design .counteracts any tendency there may be for vehicles of this type to overturn.. Furthermore, jockey wheels., which 'are adjustable for height, help to , give ' increased stability and, by coming into contact with the ground, when angularity of the load takes place, resists any tendency to overturn.
The front of the trailer is provided with a box-type pressing to accommodate the Scammell retractive forecarriage and the method of coupling up to the tractor is, in all respects, standard. The pole is bolted into the forecarriage box pressing, but the rear carriage is free to slide to give various bolster positions, being provided with spring-loaded stop pins. To support unusually long loads about their middle a third bolster is fitted along the pole and, if necessary, can be removed without difficulty.
Brake application is carried out in the normal way by means of a 'push rod from the Scammell tractor, but it can also be effected by hand lever from the front end of the trailer. A neat arrangement on the trailer ensures that the full braking effort is available, whatever the position of the rear carriage on the pole. It is believed that these vehicles are the first of their kind.