An Improvement in Centrifugal Oil Purification
2nd October 1936
Page 39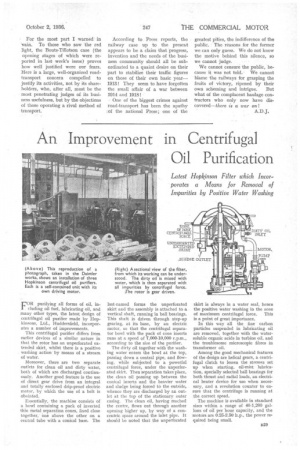 Page 39, 2nd October 1936 —
An Improvement in Centrifugal Oil Purification
Close
Latest Hopkinson Filter which Incorporates a Means for Removal of Impurities by Positive Water Washing
F"purifying all forms of oil, including oil fuel, lubricating oil, and many other types, the latest design of centrifugal oil purifier made by HopMesons, Ltd., Huddersfield, incorporates a number of improvements.
This centrifugal purifier differs from earlier devices of a similar nature in that the rotor has an unperforated extended skirt, whilst there is a positive washing action by means of a stream of water.
Moreover, there are two separate outlets for clean oil and dirty water, both of which are discharged continuously. Another good feature is the use of direct gear drive from an integral and totally enclosed drip-proof electric motor, by which the use of a belt is obviated.
Essentially, the machine consists of a bowl containing a pack of inverted thin metal separation cones, fixed close together, One above the other on a central tube with a conical base. The last-named forms the unperforated skirt and the assembly is attached to a vertical shaft, running in ball bearings. This shaft is driven through step-up gearing, at its base, by an electric motor, so that the centrifugal separator bowl with the pack of cone inserts runs at a speed of 7,00040,000 r.p.m., according to the size of the purifier.
The dirty oil together with the washing water enters the bowl at the top, passing down a central pipe, and flowing, while subjected to a powerful centrifugal force, under the unperforated skirt. Then separation takes place, the clean oil passing up between the conical inserts and the heavier water and sludge being forced to the outside, whence they are discharged by an outlet at the top of the stationary outer casing. The clean oil, having reached the centre, Rows out through another opening higher up, by way of a concentric space around the inlet pipe. It should be noted that the unperforated
skirt is always in a water seal, hence the positive water washing in the zone of maximum centrifugal force. This is a point of great importance.
In this way all the fine carbon particles suspended in lubricating oil are removed, together with the watersoluble, organic acids in turbine oil, and the troublesome microscopic fibres in transformer oil.
Among the good mechanical features of the design are helical gears, a centrifugal clutch to lessen the stresses set up when starting, oil-mist lubrication, specially selected ball bearings for both thrust and radial loads, an electrical heater device for use when necessary, and a revolution counter to ensure that the centrifuge is running at the correct speed.
The machine is available in standard sizes within a range of 40-1,200 gallons of oil per hour capacity, and the motors are 0:25-2.50h.p., the power required being small.