Does Enston Apply After Lapse?
2nd October 1936
Page 34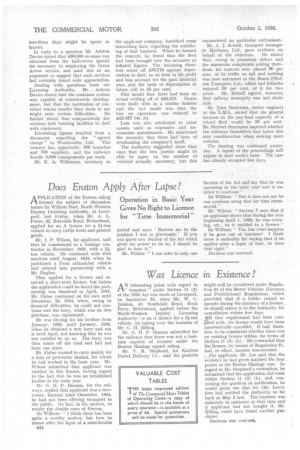 Page 34, 2nd October 1936 —
Does Enston Apply After Lapse?
Close
Operation in Basic Year Gives No Right to Licence for " Time Immemorial "
A PPLICATION of the Enston ruling
formed the subject of discussion before Sir William Hart, North Western Deputy Licensing Authority, at Liverpool, last Friday, when Mr. A. L. Fisher, 52, Briardale Road, Birkenhead, applied for an A licence for a 21-ton vehicle to carry cattle foods and general goods.
Mr. J. P. Wilson, for applicant, said that he commenced as a haulage contractor in November, 1932, with a 21ton vehicle. He continued with that machine until August, 1933, when he purchased a 3-ton articulated vehicle and entered into partnership with a Mr. Hughes.
They applied for a licence and received a short-term licence, but before the application could be heard the partnership was dissolved in April, 1934. Mr. Fisher continued on his own until December, 24, 1934, when, owing to financial difficulties, he could not continue and the lorry, which was on hire purchase, was repossessed.
He was driving for his brother from January, 1935, until January, 1936, when he obtained a new lorry and ran it until April, not knowing that he was not entitled to do so. The lorry was then taken off the road and had not been run since.
Mr. Fisher wanted to carry mainly for a firm of provender dealers, for whom he had worked in the basic year. Mr. Wilson submitted that applicant was entitled to this licence, having regard to the fact that he was an established haulier in the basic year,
Mr. G. H. P. Beames, for the railways, replied that applicant was a newcomer, because since December, 1934, he had not been offering transport to the public. lie had, in his opinion, to satisfy the double onus of Enston.
Sir William: " I think there has been quite a worthy motive, but here he comes after the lapse of a considerable B24
period and says: `.Restore me to the position I was in previously.' If you can quote any Section of the Act which gives me power to do io, I should be , glad to hear it."
Mr. Wilson: " I can refer to only one Section of the Act and say that he was operating in the basic year and is entitled to continue."
Sir William: " But it does not say he can continue using that for time immemorial."
-Mr. Wilson: " Section 7 says that if an applicant shows that during the year beginning April 1, 1932, he was carrying, etc:, he is entitled to a licence."
Sir William: " Yes, but what happens if he goes out of business? I think there is authority for saying that if he applies after a lapse of time, he loses that right."
Decision was reserved.