Hour by Road: Three Days by Rail
2nd October 1936
Page 27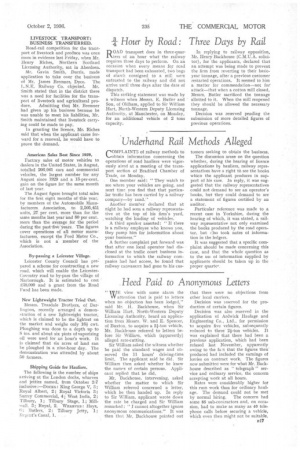 Page 27, 2nd October 1936 —
Hour by Road: Three Days by Rail
Close
Keywords :
ROAD transport does in three-quarters of an hour what the railway requires three days to perform. On an occasion when every means for road transport had been exhausted, two bags of starch consigned to a mill were entrusted to the railway and did not arrive until three days after the date of dispatch.
This striking statement was made by a witness when Messrs. E. Butler and Son, of Oldham, applied to Sir William Hart, North-Western Deputy Licensing Authority, at Manchester, on Monday, for an additional vehicle of 2 tons capacity. In replying to railway opposition, Mr. Henry Backhouse (C.M.U.A. solicitor), for the applicants, declared that an attempt was being made to prevent the firm from reverting to their basicyear tonnage, after a previous customer restarted operations. It seemed to him a matter for commendation—not foe attack—that when a cotton milt closed, Messrs. Butler sacrificed the tonnage allotted to it. When the mill reopened they should be allowed the necessary tonnage.
Decision was reserved pending the submission of more detailed figures of previous operations.