No Security in Licensing—Mr, Riches
2nd October 1936
Page 25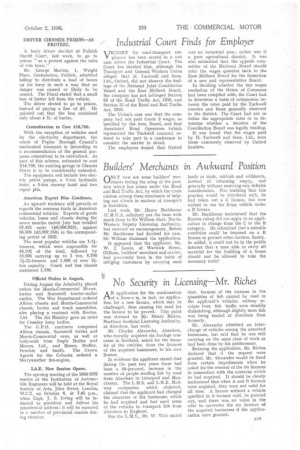 Page 25, 2nd October 1936 —
No Security in Licensing—Mr, Riches
Close
AN application for the continuation of a been' e is, in fact, an application for a new licence, which may be challenged, thus causing the need for the licence to be proved. This point was stressed by Mr. Henry Riches, Northern Scotland Licensing Authority, at Aberdeen, last week.
Mr. Charles Alexander, Aberdeen, who recently acquired six haulage concerns in Scotland, asked for the transfer of the vehicles, from the licences of the acquired businesses, to his own licence.
In evidence the applicant stated that during the past two years there had been a 50-per-cent. increase in the number of people sending fish by road from Aberdeen to Liverpool and Manchester. The L.M.S. and L,N.E. Railway companies, which objected, claimed that the applicant had changed the character of the businesses which he had acquired and had used some of the vehicles to transport fish from Aberdeen to England.
For the L.M,S., Mr. W. Weir stated
that, because of the increase in the quantities of fish carried by road in the applizant's vehicles, railway receipts from fish traffic were steadily diminishing, although slightly more fish was being landed at Aberdeen than formerly.
Mr. Alexander admitted an interchange of vehicles among the absorbed businesses, but said that he was still carrying on the same class of work as had been done by his predecessors.
Refusing the application, Mr. Riches declared that if the request were granted, Mr. Alexander would be freed from certain impediments when he asked for the renewal of the six licences in connection with the concerns which he had acquired. It should be clearly understood that when A and B licences were acquired, they were not valid for all time. A licence without a vehicle specified in it became void, he pointed out, and there was no value in the offer to surrender the six licences of the acquired businesses if the applic,acation were granted.