Personal Pars
2nd October 1936
Page 24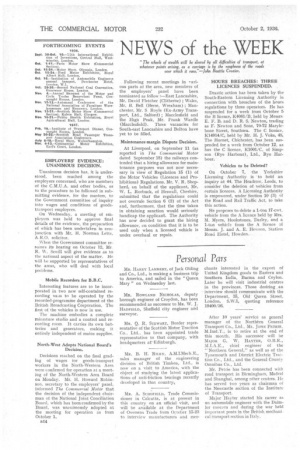 Page 24, 2nd October 1936 —
Personal Pars
Close
MR. HARRY LAMBERT, of Jack Olding and Co., Ltd., is making a business trip to America, and sailed in the " Queen Mary" on Wednesday last, MR. ROWLAND NICHOLAS, deputy borough engineer of Croydon, has been recommended as successor to MR. W. J. HADFIELD, Sheffield city engineer and surveyor.
MR. Q. R. STEWART, Border representative of the Scottish Motor Traction Co., Ltd., has been appointed trade representative to that company, with headquarters at -Edinbur gh.
MR. B. H. RILEY, A.M.I.Mech.E., sales manager of the engineering division of British Timken, Ltd., is now on a visit to America, with the object of studying the latest applications. of anti-friction bearings recently developed in that country% MR. A. SCHOFIELD, Trade Commissioner in Calcutta, is at present in this country on an official visit, and will be available at the Department of Overseas Trade from October 15-23 to interview manufacturers and mer
chants interested in the export of United Kingdom goods to Eastern and Southern India, Burma and Ceylon. Later he will visit industrial centres in the provinces. Those desiring an interview should communicate with the Department, 35, Old Queen Street, London, S.W.1, quoting reference 19400/36. .
After 10 years' service as general manager of the Northtm General Transport Co., Ltd., Mi. JOHN PETRIE. M.Inst.T., is to retire at the end of this month. His successor will be MAJOR G. W. HAYTER, O.B.E., M.I.A.E., chief engineer of the " Northern General," as well as of the Tyriemouth and District Electric Traction Co., Ltd., and the General County Omnibus Co., Ltd.
Mr. Petrie has been connected with road transport in Birmingham; Madrid and Shanghai, among other centres. He has served two years as chairman of the Newcastle section of the Institute of Transport.
Major Hayter started his career as an automobile engineer with the Daimler concern and during the war heldim port ant posts in the British mechani cal transport section in Italy,