NEWS of the WEEK
2nd October 1936
Page 24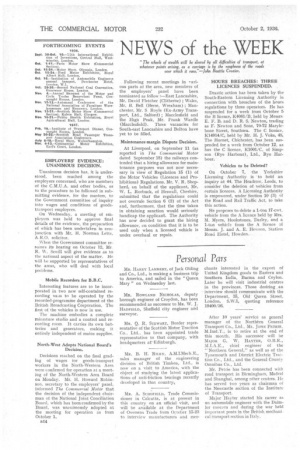 Page 24, 2nd October 1936 —
NEWS of the WEEK
Close
Keywords :
The wheels of wealth will be slowed by all difficulties of transport, at whatever points arising, as a carriage is by the roughness of the roads over which it TIMS."—John Beattie Crozier.
Following recent meetings in various parts of the area, new members of the employers' panel have been nominated as follow :—East Lancashire, Mr. David Fletcher (Clitheroe) ; Wales, Mr. B. Bell (Berse, Wrexham) ; Manchester, Mr. S Hoyle (Ex-Army Transport, Ltd., Salford) ; Macclesfield and the High Peak, Mr. Frank Wardle (Macclesfield). Three vacancies for South-east Lancashire and Bolton have yet to be filled.
Maintenance-margin Dispute Decision.
• At Liverpool, on September 11 (as reported in The Commercial Motor dated September 18) the railways contended that a hiring allowance for maintenance purposes was not now necessary in view of Regulation 15 (I) of the Motor Vehicles (Licences and Pro. hibitions) Regulations. Mr. V. R. Shepherd, on behalf of the applicant, Mr. W. L. Roebuck, of Heswall, Cheshire, submitted that the regulations could not overrule Section 6 (2) of the Act and, furthermore, that the time taken in obtaining sanction would seriously handicap the applicant. The Authority has now decided to grant the hiring allowance, on condition that it is to be used only when a licensed vehicle is under overhaul or repair.
HOURS BREACHES: THREE LICENCES SUSPENDED.
Drastic action has been taken by the South-Eastern Licensing Authority in connection with breaches of the hours regulations by three operators. He has suspended for a week from October 5 the B licence, K4081/B, held by Messrs. E. F. B. and D. R. S. Newton, trading as F. Newton and Sons, 70-72 Marylebone Street, Southsea. The C licence, K14914/C, held_ by Mr. H. J. Voice, 48, The Hornet, Chichester, has been suspended for a week from October 12, as has the C licence, K1001/C, of Simpson (Rye Harbour), Ltd., Rye Harbour.
Vehicles to be Deleted?
On October 7, the Yorkshire Licensing Authority is to hold an inquiry at 44, The Headrow, Leeds, to consider the deletion of vehicles from certain licences. A Lic.msing Authority is empowered, under Section 10 (3) of the Road and Rail Traffic Act, to take this action.
He pioposes to delete a 1-ton 17-cwt. vehicle from the A licence held by Mrs. M. Myers, Hookstones, 'Darley, and a 1-ton vehicls from the A licence of Messrs. J. and A.. E. Heuson, Station Road Hotel, Howden.• .