EMPLOYERS' EVIDENCE: UNANIMOUS DECISION.
2nd October 1936
Page 24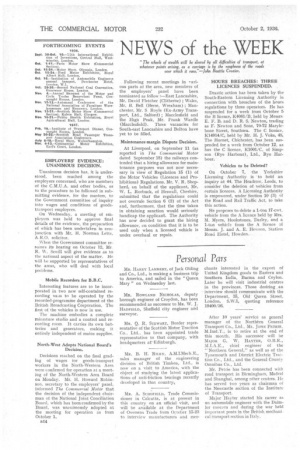 Page 24, 2nd October 1936 —
EMPLOYERS' EVIDENCE: UNANIMOUS DECISION.
Close
Unanimous decision has, it is understood: been reached among the employers concerned, who are members of the C.M.U.A. and other bodies, as to the procedure to be followed in submitting evidence, for the masters, to the Government committee of inquiry into wages and conditions of goodstra nspor t employees.
On Wednesday, a meeting of employers was held to approve final details of the evidence, the preparation of which has been undertaken in conjunction with Mr. H. Norman Letts, A.R.O. solicitor.
When the Government committee re • sumes its hearing on October 12, Mr. R. W. Sewill will give evidence as to the national aspect of the matter. He will be supported by representatives of the areas, who will deal with local problems.
Mobile. Recorders for B.B.C.
Interesting features are to be incorporated in two new self-contained recording vaas to be operated by the recorded-programtne department of the British Broadcasting Corporation. The first of the vehicles is now in use.
The machine embodies a complete miniature studio and a control and recording room. It carries its own batteries and generators, making it entirely independent of mains supplies.
North-West Adopts National Board's Decision.
Decisions reached on the final grading of wages for goods-transport workers in the North-Western Area were confirmed for operation at a meeting of the North-Western Area Board on Monday. Mr. H. Howard Robinson, secretary to the employers' panel, informed The COMMUTri id Motor that the decision of the independent chairman of the National Joint Conciliation Board, which has been confirmed by the Board, was unanimously adopted at the meeting for operation as from October 1.
R14