One Hears—
2nd October 1936
Page 23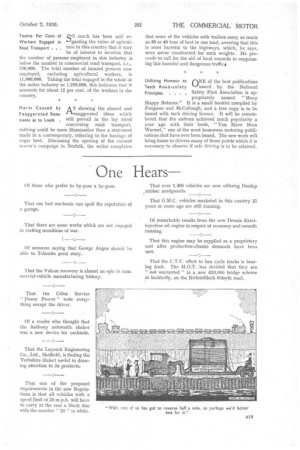 Page 23, 2nd October 1936 —
One Hears—
Close
Keywords :
Of those who prefer to by-pass a by-pass.
That one bad mechanic can spoil the reputation of a garage.
That there are some works which are not engaged in snaking munitions of war.
Of someone saying that George Angus should be able to Telamite good story.
That the Vulcan recovery is almost an epic in commercial-vehicle manufacturing history.
That the Cities Service "Power Prover" texts everything except the driver.
Of a reader who thought that the Anthony automatic shaker was a new device for cocktails.
That the Laycock Engineering Co., Ltd., Sheffield, is finding the Yorkshire dialect useful in drawing attention to its products.
That one of the proposed requirements in the new Regulations is that all vehicles with a speed limit of 20 m.p.h. will have to carry at the rear a black disc with the number "20 " in white. • That over 1,400 vehicles are now utilizing Dunlop rubber mudguards.
That G.M.C. vehicles marketed in this country 15 years or more ago are still running.
Of remarkable results from the new Dennis directinjection oil engine in respect of economy and smooth running.
That this engine may be supplied as a proprietary unit after production-chassis demands have been met.
That the C.T.C. effort to ban cycle tracks is bearing fruit. The M.O.T. has decided that they are "not warranted" in a new £10,000 bridge scheme at Inchbelly, on the Kirkintilloch-Kilsyth road,