The Pedestrian Crossings Muddle
2nd October 1936
Page 22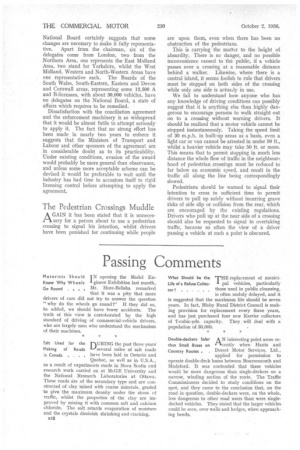 Page 22, 2nd October 1936 —
The Pedestrian Crossings Muddle
Close
A GAIN it has been stated that it is unnecessary for a person about to use a pedestrian crossing to signal his intention, whilst drivers have been punished for continuing while people are upon them, even when there has been no obstruction of the pedestrians.
This is carrying the matter to the height of absurdity. There is no danger, and no possible inconvenience caused to the public, if a vehicle passes over a crossing at a reasonable distance behind a walker. Likewise, where there is a central island, it seems foolish to rule that drivers must be stopped on both sides of the crossing while only one side is actua,Iy in use.
We fail to understand how anyone who has any knowledge of driving conditions can possibly suggest that it is anything else than highly dangerous to encourage persons to walk straight out on to a crossing without warning drivers. It should be realized that a motor vehicle cannot be stopped instantaneously. Taking the speed limit of 30 m.p.h. in built-up areas as a basis, even a light car or van cannot be arrested in under 30 ft., whilst a heavier vehicle may take 50 ft. or more. This means that to permit stopping in much less distance the whole flow of traffic in the neighbourhood of pedestrian crossings must be reduced to far below an economic s2eed, and result in the traffic all along the line being correspondingly slowed.
Pedestrians should be warned to signal their intention to cross in sufficient time to permit drivers to pull up safely without incurring grave risks of side slip or collision from the rear, which are encouraged by the existing regulations. Drivers who pull up at the near side of a crossing should also be requested to signal to overtaking traffic, because so often the view of a driver passing a vehicle at such a point is obscured.