A Saner View on Motoring Offences T HERE are indications that
2nd October 1936
Page 21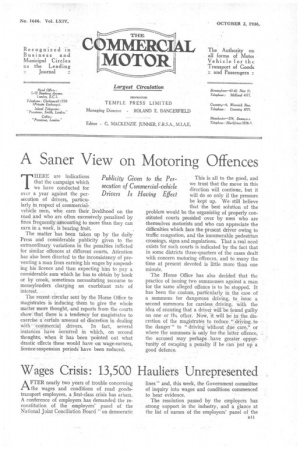 Page 21, 2nd October 1936 —
A Saner View on Motoring Offences T HERE are indications that
Close
the campaign which we have conducted for over a year against the persecution of drivers, particularly in respect of ,commercialvehicle men, who earn their ,livelihood on the road and who are often excessively, penalized by fines frequently.amounting to more than they can earn in a week, is bearing fruit. .
The matter -has been taken up by the daily Press and considerable publicity given to the extraordinary variations in the penalties inflicted for similar offences at different courts. Attention has also been directed to the inconsistency of preventing a man from earning his wages by suspending his licence and then expecting him to pay a considerable sum which he has to obtain by hook or by crook, sometimes necessitating recourse to moneylenders charging an exorbitant rate of interest. , The recent circular sent by the Home Office to magistrates is inducing them to give the whole matter more thought, -and reports from the courts show: that there is a tendency for magistrates to exercise' a 'certain 'amount of discretion in dealing with . connnercial drivers. In fact, several instances have Occurred in which, on second thoughtS, when it has been pointed out what drastic effects these would have on wage-earners, licence-su.spension periods have been reduced. This is all to the good, and we trust that the move in this direction will continue, but it will do so only if the pressure be kept up. We still believe that the best solution of the problem would be the organizing of properly constituted courts presided over by men who are -themselves motorists and who can appreciate the difficulties which face the present driver owing to traffic congestion, and the innumerable pedestrian crossings, signs and regulations. That a real need exists for such courts is indicated by the fact that in some districts three-quarters of the cases dealt with concern motoring offences, and to many the time at present devoted is little more than one minute.
The Home Office has also decided that the practice of issuing two summonses against a man for the same alleged offence is to be stopped. It has been the custom, particularly in the case of a summons for dangerous driving, to issue a second summons for careless driving, with the idea of ensuring that a driver will be found guilty on one or tht. other. Nbw, it will be in the discretion of the magistrates to reduce "'driving-to the danger " to "driving Without due care," or where the summons is only for-the latter offence, the accused may perhaps, have greater opportunity of escaping a penalty if he can put up a good defence.