Electrics in Dock Estate Service.
2nd October 1923
Page 29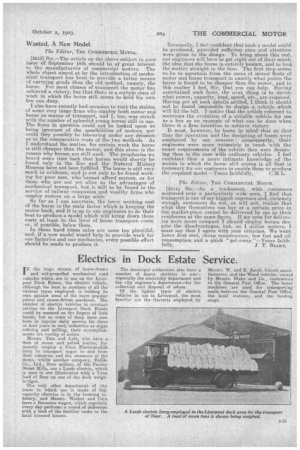 Page 29, 2nd October 1923 —
Electrics in Dock Estate Service.
Close
I N the huge stream of horse-drawn and self-propelled mechanical road vehicles which-are in use on the Liverpool Dock Estate, the electric vehicle, although the least in numbers of all the various types employed, is holding its own against some of the more popular petrol and steam-driven machines. The number of electric vehicles in constant service on the Liverpool Dock Estate could be counted on the fingers of both hands, but as some of them have now been in regular daily service fot three or four years in such industries a-s sugar .refining and milling, their accomplishments are worthy of notice, Messrs. Tate and Lyle, who have a fleet of steam and petrol. lorries, frequently employ a. 5-ton Electromobire lorry to transport sugar to and from their refineries and the steamers at the docks, whilst another company, Emido Co., Ltd., flour millers, of the Paisley Street Mills, use a Leeds electric, which is seen in OW illustration with a 7-ton load of flour on one of the dock weigh. bridges. The only other department of city trade in which use is made of bigcapacity elect-dos is in the brewing industry, and Messrs. Walker. and Cain have a Ransome wagon, which regularly every day performs a round of deliveries vrittli a load of the familiar casks to the local licensed houses.
The municipal authorities also have a number of heavy electrics in use— especially the electricity department and the city engineer's department—for the collection' and disposal of Defuse.
Of thelighter types of electric vehicles in use in Liverpool, the moat familiar are the Garretts employed by Messrs. W. and R. Jacob, biscuit mann fac-turers, and the, Ward vehicles, owned by Messrs. Blake and Co., contractors to the General Post Office. The latter machines are used for transporting mails 'between the General Post Office, the local stations, and the landing stage.