A SELF-CONTAINED REGULATING WINDOW.
2nd October 1923
Page 27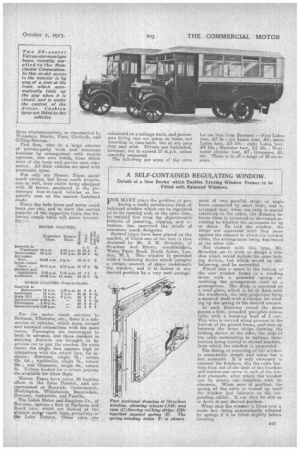 Page 27, 2nd October 1923 —
A SELF-CONTAINED REGULATING WINDOW.
Close
Details of a New Device which Enables Existing Window Frames to be Fitted with Balanced Windows.
FOR MANY years the problem of produring a. really satisfactory form of balanced window Which can be regulated as to its opening and, at the same time, be entirely free from the objectionable. features of jamming, slipping, and vi. bration, has. exercised the minth of numerous coach designers.. Several types have-been placed on the market, of which one.of the best is that designed. by Mr. J. M. Strachan, of Straehan and. Brown, coachbuilders, Wades 'Farm }toad, North Acton, London, W. 3. This window is provided witit a balancing device which occupies a -certain -amount of space underneath the window, and it is locked in any desired position by a very neat arrange
merit of two parallel strips of angle brass connected by short links, and so arranged that., when one strip is movad relatively to the other, the distance between them is increased or decreased according to whether the movement be up or down. To lock the window, the strips are separated until they press against the channel in which the window slides, the arrangement, being doplieated at the other Side.
Notcontent with this type, Mi. Strachan setto work to design a window which would include the same locking devices, but whick would be self balancing, and he succeeded.
Fitted into a apace in the bottom of the new window frame is a winding drum with a powerful spring resembling the arrangement used on a gramophone. The drum is mounted on a steel:plate, which is let in flush with the woodwork, the only projection being alsquared shaft with a ratchet fee winding up the spring to the desired amount.
In each direction round the drum passes a thin, stranded, phosphor-bronze cable with a breaking load of 3 cwt. This wire is carried along grooves in the bottom of the glazed frame, and then up between the brass strips forming the locking device at the sides, the ends of the cable terminating in buttons, these buttons being carried in slotted brackets, from which the window is suspended.
The fitting or removing of the window is remarkably simple and takes but a few moments. It is only necessary to unscrew the finishers, slip the cable buttons from out of the slots of the brackets and remove one screw in each of the window channels, after which the window can be drawn out complete with its channels. Whenonce in position, the spring of the cable is wound up until the window just balances on the suspending.cables.. It can then be slid up • or down in any desired position.
When shut the window is lifted over a water bar, being automatically released • hy springs if it be lifted slightly before lowering.