Licensing Principles for Transitional
2nd May 1947
Page 45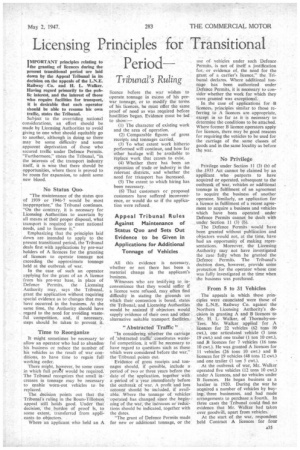 Page 46
Page 45, 2nd May 1947 —
Licensing Principles for Transitional
Close
Period—
Tribunal's Ruling
IMPORTANT principles relating to 'the granting of licences during the present transitional period are laid down by the Appeal Tribunal in its decision on the appeals of the L.N.E. Railway .Co. and H. L. Walker. Having regard primarily to the public interest, and the interest of those who require facilities for transport, it is desirable that each operator, should be able to resume his own traffic, states the Tribunal. .
Subject to the overriding national considerations, an effort should be made by Licensing Authorities to avoid giving to one what should equitably go to another, although in doing so there may be some difficulty and some apparent deprivation of those who secured traffic under Defence Permits. "Furthermore," states the Tribunal,. "in. the interests of the transport industry itself, it is wise that there should be opportunities, where there is proved to be room for expansion, to admit some new blood.
No Status Quo "The maintenance of the status quo of 1939 or 1946-7 would be most inappropriate," the Tribunal continues. "On the contrary, it is necessary for Licensing Authorities to ascertain by all means at their proper disposal, what transport is required to meet national needs, and to license it."•
Emphasizing that the principles laid down are intended to apply to the present transitional period, the Tribunal deals first with applications by pre-war holders of A licences for the granting of licences to operate tonnage not exceeding the approximate tonnage held at the outbreak of war.
In the case of such an operator applying for the grant of an A licence from his pre-war base, in place of Defence Permits, the Licensing Authority may, says the Tribunal, grant the application without requiring special evidence as to changes that may have occurred in the business. At the same time, the Authority should have regard to the need for avoiding waste-. ful competition, and, if necessary, steps should be taken to prevent it.
Time to Reorganize
It might sometimes be necessary to allow an operator who had to abandon his business or reduce the number of his vehicles as the result of war conditions, to have time to regain full working order.
There might, however, be some cases in which full prof would be required. The Tribunal recognizes that small increases in tonnage may be necessary to enable worn-out vehicles to be replaced.
The decision points out that the Tribunal's ruling in the Bouts-TillOtson. appeal still holds good. Under that decision, the burden of proof Is, to some extent, transferred from applicants to objectors.
Where an applicant who held an A
licence before the war wishes to operate tonnage in excess of his prewar tonnage, or to modify the terms of his licenees, he must offer the same proof of need as was required before hostilities began. Evidence must be led to show:—
(1) The character of existing work and the area of operation.
(2) Comparable figures of gross receipts and tonnages carried.
(3) To what extent work hitherto performed will continue, and how far 'other haulage will be available to replace work that ceases to exist.
(4) Whether there has been an expansion of trade or industry in the relevant districts, and whether the need for transport has increased.
(5) The extent to which hiring has been necessary. "
(6) That customers or proposed customers have suffered inconvenience, or would do so if the application were refused,
All this evidence is necessary, whether or not there has been a material change in the applicant's business.
Witnesses who are testifying to inconvenience that they would suffer if a licence were refused, may often find difficultY in stating the grounds on which their contention is based, states the Tribunal, and Licensing Authorities would be assisted if objectors would supply evidence of their own and other alternative suitable transport facilities.
"Abstracted Traffic"..
"In considering .whetherthe carriage of .`abstracted traffic', constitutes wasteful competition, it will be necessary to have regard to questions sitch as those which were considered before the war," the Tribunal points Out.
Evidence of gross receipts and toile nages should, if .possible, include a.. period of two or three years before the date of the' application, together with a Period of 'a year. immediately before. the outbreak of war. A profit 'and loss account should -be included, if available. -Where the tonnage of vehicles' operated has changed. since the beginning of the war, the..inereases or reductions should be indicated, together with the dates.
"The grant of Defence Permits made for new or additional tonnage, or the
use of vehicles under such Defence Permits, is not of itself a justification for, or evidence of, the need for the grant of a carrier's licence," the Tribunal declares. Where additional tonnage has been authorized under Defence Permits, it is necessary to consider whether the work for which they were granted was exceptional.
In the case of applications for B licences, principles similar to those referring to A licences are appropriate, except in so far as it is necessary to determine the conditions to be attached. Where former B licence operators apply for licences, there may be good reasons for requiring the vehicles to be used for the carriage of the same classes of goods and in the same locality as before the war.
No Privilege
Privilege under Section 11(3) (b) of the .1933 Act cannot be claimed by an applicant who purports to have acquired or operated, subsequent to the outbreak of war, vehicles or additional tonnage in fulfilment of an agreement to acquire the business of another operator Similarly, an application for a licence in fulfilment of a recent agreement to acquire a business and vehicles which have been operated under Defence Permits cannot be dealt with under Section 11 (3) (b).
The Defence Permits would have been granted without publication and objectors would not, at the time, have had an opportunity of making representations. Moreover, the Licensing Authority may not have investigated the case fully when he granted the Defence Permits. The Tribunal's decision does, however, provide some protection for the operator whose case was fully investigated at the time when • the business was purchased.
From. 5 to 31 Vehicles The appeals in which these principles were enunciated were 'those of the L.N.E. Railway Co. against the Northern Licensing Authority's decision in granting A and B licencesto Mr. H. le Walker, of Thornaby-onTees. Mr. Walker applied for A licences for 22 vehicles (62 tens 10 cwt.), one articulated vehicle (3 tons 19 cwt.) and one trailer (1 ton 10 cwt.), and .13 licences for 7 vehicles (16 tons
10 cwt). He was granted A licences for 11 vehicles (26 tons 10 cwt.) and B licences for 19 vehicles (48 tons 12 cwt.) and one trailer (1 ton 5 cwt.).
At the outbreak of war, Mr. Walker operated five vehicles (12 tons 10 cwt.) under A licences, and no vehicles under B licences. He began business as a haulier in 1920. During the war he acquired a number of vehicles by buying, three businesses, and had made arrangements to purchase a fourth. In three cases the Tribunal could find, no evidence that Mr. Walker had taken over goodwill, apart from vehicles.
At the start of the war, respondent held Contract A licences for four vehicles, but in 1945 he was granted authority to use them for hire or reward for various concerns for which they could not otherwise have been employed under Contract A Defence Permits.
Before the war the major part of Mr. Walker's work consisted of carrying building and road-making plant and material. During the war he did a great deal of long-distance haulage, and in his licence application asked to be allowed to continue to do that work. He said, however, that his main function would be short-distance haulage, for which there was a great demand. His tipping vehicles were fully occupied and more machines of that type were required to meet the heavy demands for local work.
Increased Turnover
Figures were produced to show that Mr. Walker's turnover had risen from £28,934 in 1944 to £39,036 in 1946. Amounts paid for hiring did not vary greatly during that period, the lowest figure (for 1944) being £5,342 and the highest (for 1945) £5,870.
Mr, Walker undertook a large amount of work through the Clearing House Conference of the Northern Area, of which he was chairman. In this connection, the Tribunal comments: "Where the operator obtains a large amount of work through a clearing house organization, and arranges through that organization for a considerable amount of work to be sub-contracted and carried out by other hauliers, the turnover and hiring figures are greatly swollen thereby, and the value of such figures as evidence of need for additional transport is considerably reduced."
Increase in hiring was normally regarded as properly supporting an application for additional transport, says the Tribunal, but the practice adopted by Government Departments of placing their transport orders with one concern, and leaving that concern to sub-contract with other hauliers, had, in many cases, modified or largely destroyed the argument that additional hiring was "evidence of an increase in goodwill properly accruing to a particular operator."
The Tribunal comments that Mr. Walker offered little evidence of need for his services as a long-distance haulier, and that figures produced did not distinguish between long-distance and short-distance work, or show how much was done for new customers and how much for old.
Objectors at the hearing of the application contended that it should be refused entirely as regards the vehicles which the applicant had acquired since 1939, and those which he owned before the war and now proposed to use for different purposes.
Evidence did not justify any increase in the distance over which Mr. Walker's application in 1938 showed that he proposed normally to operate, says the Tribunal. Existing hauliers could deal with any increase in long-distance work.
The grant of an A licence has been set aside, with a direction to the Licensing Authority to grant a short-term A licence for seven vehicles, including one articulated machine, weighing not more than 20 tons, to enable Mr. Walker to apply for a full-term licence for those vehicles to be operated within 50 miles of Norton-on-Tees, The Licensing Authority will be directed to remove from the B licence 10 vehicles (24 tons) and to authorize nine vehicles (25 tons) and one trailer (1 ton 5 cwt.). An award of costs of £40 is made against the respondent.
Mild Rebuke
In discussing the duties of Licensing Authorities, the Tribunal states that the Northern Licensing Authority should not have referred to a report from a regional representative of another Government Department that there was a shortage of transport, and that complaint was made at a meeting of the Regional Board that transport for certain purposes was not available.
"It may, however, be the duty of a Licensing Authority, as Regional Transport Commissioner, to investigate such reports and, if they are substantiated, to arrange for the result of the investigation to be disclosed at the public inquiry," says the Tribunal.
An appendix to the Tribunal's decision sets out the effects of appeal decisions given before the war.