THE AEC. REGENT MARK
2nd May 1947
Page 38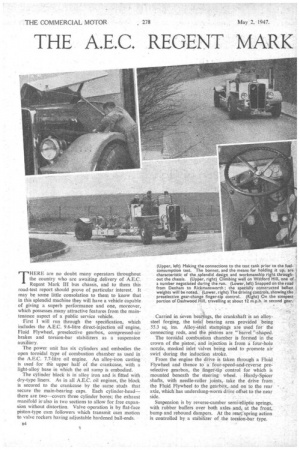 Page 38, 2nd May 1947 —
THE AEC. REGENT MARK
Close
THERE are no doubt many operators throughout the country who are awaiting delivery of A.E.C. Regent Mark III bus chassis, and to them this road-test report should prove of particular interest. It may be some little consolation to them to know that in this splendid machine they will have a vehicle capable of giving a superb performance and one, moreover, which possesses many attractive features from the maintenance aspect of a public service vehicle.
• First I will run through• the specification, which includes the A.E.C. 9.6-litre direct-injection oil engine, Fluid Flywheel, preselective gearbox, compressed-air brakes and torsion-bar stabilizers as a suspension auxiliary.
The power unit has six cylinders and embodies the open toroidal type of combustion chamber as used in the A.E.C. 7.7-litre oil engine. An alloy-iron casting is used for the upper half of the crankcase, with a light-alloy base in which the oil sump is embodied.
The cylinder block is in alloy iron and is fitted with dry-type liners. As in all A.E.C. oil engines, the block is secured to the crankcase by the same studs that secure the main-bearing, caps. Each cylinder-headthere are two—covers three cylinder bores; the exhaust manifold is also in two sections to allow for free expansion without distortion. Valve operation is by flat-face piston-type cam followers which transmit cam motion to valve rockers having adjustable hardened ball-ends. • Carried in.even beatings, the crankshaft is an alloysteel forging, the total bearing area provided being 55.3 sq. ins. Alloy-Steel stampings are used for the connecting rods, and the pistons are "barrel "-shaped. The toroidal combustion chamber is formed in the crown of the piston, and injection is from a four-hole nozzle, masked inlet valves being used to promote air swirl during the induction stroke.
From the engine the drive is taken through a Fluid• Flywheel and thence to a four-speed-and-reverse preselective gearbox, the finger-tip control for which is mounted beneath the steering wheel. . Hardy-Spicer shafts, with needle-roller joints, take the drive from the Fluid Flywheel to the gearbOx, and on to the rear axle, which has underslung-worm drive offset to the near side.
Suspension is by reverse-camber semi-elliptic springs, with rubber buffers over both axles and, at the front, bump and rebound dampers. At the rear; spring action is controlled by a stabilizer of the torsion-bar type.