Finland Produces Its Own Commercial Vehicles
2nd May 1947
Page 34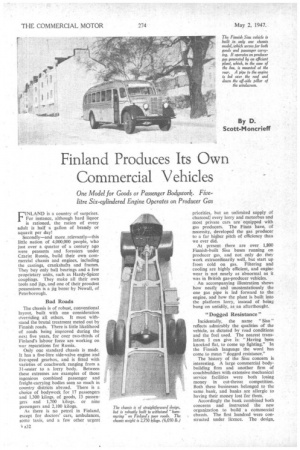 Page 35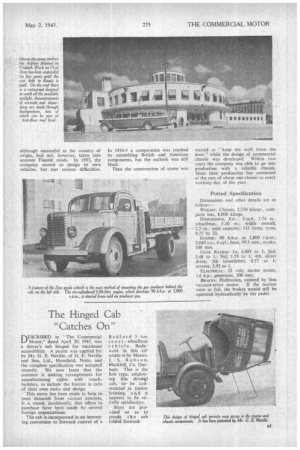 Page 34, 2nd May 1947 —
Finland Produces Its Own Commercial Vehicles
Close
One Model for Goods or Passenger Bodywork. Fivelitre Six-cylindered Engine Operates on Producer Gas
By D.
Scott-Moncrieff FINLAND is a country of surprises. For instance, although hard liquor is rationed, the ration of every adult is half a gallon of brandy or aquavit per day!
Secondly—and more relevantly—this little nation of 4,000,000 people, who just over a quarter of a century ago were peasants and foresters under Czarist Russia, build their own commercial chassis and engines, including the castings, crankshafts and frames. They buy only ball bearings and a few proprietary units, such as Hardy-Spicer couplings. They make all their own tools and jigs, and one of their proudest possessions is a jig borer by Newall, of Peterborough.
Bad Roads
The chassis is of robust, conventional layout, built with one consideration overriding all others. It must withstand the brutal treatment meted out by Finnish roads. There is little likelihood of roads being improved during the next five years, for over two-thirds of Finland's labour force are working on war reparations for Russia.
Only one standard chassis is made. It has a five-litre side-valve engine and five-speed gearbox, and is fitted with varieties of coachwork ranging from a 31-seater to a lorry body. Between these extremes are examples of those ingenious combined passenger and freight-carrying bodies seen so much in country districts abroad. There is a choice of bodywork for 17 passengers and 1.300 kilogs. of goods, 13 passengers and 1,700 kilogs. or nine passengers and 2,100 kilogs.
As there is no petrol in Finland, except for doctors' cars, ambulances, some taxis, and a few other urgent
priorities, but an unlimited supply of charcoal; every lorry and motorbus and most private cars are equipped with gas producers. The Finns have, of necessity, developed the gas producer to a far higher pitch of efficiency than we ever did.
At present there are over 1,800 Finnish-built Sisu buses running on producer gas, and not only do they work extraordinarily well, but start up from cold on gas. Filtering and cooling are highly efficient, and engine wear is not nearly as abnormal as it was in British gas-producer vehicles.
An accompanying illustration shows how neatly and unostentatiously the one gas pipe is led forward to the engine, and how the plant is built into the platform lorry, instead of being hung on untidily, as an afterthought.
"Dogged Resistance"
Incidentally, the name " Sisu " reflects admirably the qualities of the vehicle, as dictated by road conditions and the fuel used. The nearest translation I can give is: "Having been knocked flat, to come up fighting." In the Finnish language the word has come to mean "dogged resistance."
The history of the Sisu concern is interesting. A large commercial bodybuilding firm and another firm of coachbuilders with extensive mechanical service facilities were both losing money in cut-throat competition. Both these businesses belonged to the same bank, and banks are allergic to having their money lost for them.
Accordingly the bank combined both concerns and instructed the new organization to build a commercial chassis. The first hundred were constructed under licence. The design, although successful in the country of origin, had not, however, taken into account Finnish roads. In 1933, the company started to design its own vehicles, but met serious difficulties. In 1934-5 a compromise was reached by assembling British and American components, but the outlook was still black.
Then the construction of trams was started to "keep the wolf from the door" while the design of commercial chassis was developed. Within two years the company was able to go into production with a reliable chassis. Since then production has continued at the rate of about one chassis to every working day of the year.
Potted Specification
Dimensions and other details are as follow:— Worst-1r: Chassis, 2,750 kilogs., complete bus, 8,000 kilogs.
DimENsioNs, ETC.: Track, 1.74 m.; wheelbase, 5.10 m.; width overall, 2.2 m.; •tank capacity, 115 litres; tyres; 8.25 by 20.
ENGINE: 90 b.h.p. at 2,800 r.p.m.; 5,040 c.c.; 6 cyl.; bore, 99.5 mm.; stroke, 108 mm.
GEAR RATios: 1st, 6.081 to 1; 2nd, 3.48 to 1; 3rd, 1.79 to 1; 4th, direct drive; 5th (overdrive), 0.77 to 1; reverse, 5.95 to 1.
ELECTRICAL: 12 volt; starter motor, 1.6 h.p.; generator, 300 watt. BRAKES: Hydraulics, assisted by Sisu vacuum-servo motor. If the suction were to fail, the brakes would still be operated hydraulically by the pedal.