Leigh Solves a Building Problem
2nd May 1947
Page 33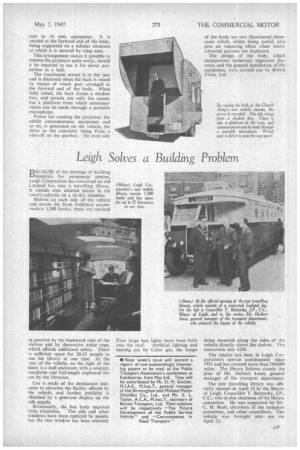 Page 33, 2nd May 1947 —
Leigh Solves a Building Problem
Close
BECAUSE of the shortage of building materials for permanent centres, Leigh Corporation has converted an old Leyland bus into a travelling library. It attends nine selected points in the town's suburbs on a 41-day schedule.
Shelves on each side of the vehicle and across the front bulkhead accommodate 1,500 books; these are retained in position by the backward rake of the shelves and by decorative white rope, which affords additional safety. There is sufficient space for 20-25 people to use the library at one time. At the rear of the vehicle, on the right of the door, is a staff enclosure, with a counter, wardrobe and full-length cupboard for use by the librarian.
Use is made of the destination indicator to advertise the facility offered by the vehicle, .and further publicity is obtained by a generous display on the side panels.
Structurally, the bus body required little alteration. The side and other windows have been replaced by panels, hut the rear window has been retained. Four large box lights have been built into the roof. Artificial lighting and heating are by Calor gas, the lamps being mounted along the sides of the vehicle directly above the shelves. The conversion cost £250.
The vehicle has been in Leigh Corporation's service continuously since 1931 and has covered more than 260,000 miles. The library follows closely the plan of Mr. Herbert Jones, general manager of the transport department.
The new travelling library was officially opened on April 12 by the Mayor of Leigh, Councillor T. Battersby, J.P., C.C., who is also chairman of the library committee. He was supported by Mr. C. H. Brett, chairman of the transport committee, and other councillor's. The vehicle was brought into use on April 21.