HOUSEWIVES JOIN IN SLASHING ATTACK ON NATIONALIZATION
2nd May 1947
Page 30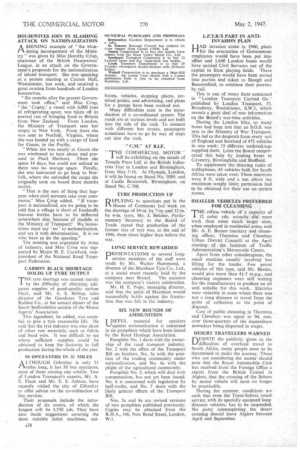 Page 30, 2nd May 1947 —
HOUSEWIVES JOIN IN SLASHING ATTACK ON NATIONALIZATION
Close
ASHINING example of "the blundering incompetence. of the Ministry" was given by Miss Dorothy Crisp, chairman of the British Housewives' League, in an attack on the Government's proposals for the nationalization of inland transport. She was speaking at a protest meeting at Caxton Hall, Westminster, last week, and received a great ovation from hundreds of London housewives.
"Six months after the present Government took office," said Miss Crisp,
the 'Coptic,' a vessel with 6,000 tons of refrigerating space, was taken off its normal run of bringing food to Britain from New Zealand. From London, the Ministry of Transport sent her empty to New York. From there she was sent to Norfolk-, Virginia, where she was loaded up with a cargo of food for Guam, in the Pacific.
"When she was nearly at Guam she was wirelessed to turn about and proceed to Pearl Harbour. There she spent 14 days, but could not unload as there was no storage space. Finally, she was instructed to go back to Norfolk, where she unloaded the cargo she originally took on board three months earlier.
" That is the sort of thing that happens when civil servants take over commerce," Miss Crisp added. "if transport is nationalized, are we going to be told that a village is short of foodstuffs because lorries have to be deflected somewhere else, because of muddle at the Ministry of Transport? We housewives must say no ' to nationalization, and say it with determination. It is we who have to do the queuing."
The meeting was organized by Aims of Industry, and Miss Crisp was supported by Major H. E. Crawford, vicepresident of the National Road Transport Federation.
CARBON BLACK SHORTAGE HOLDS UP TYRE OUTPUT
T" tyre shortage was caused mainly by the difficulty of obtaining adequate supplies of good-quality carbon black, said Mr. A. S. Bishop. sales director of the Goodyear Tyre and Rubber Co., at the annual dinner of the South Staffordshire section of the Motor Agents' Association.
This ingredient, he added, was essential to give a tyre reasonable life. Be said that the tyre industry was also short of other raw materials, such as fabric and head wire. It was difficult to see where sufficient supplies could be obtained to keep the factories in full production during the whole of.the year.
SO OPERATORS IN 31 MILES
A LTHOUGH Gibraltar is only 31 rImiles long, it has 50 bus operators, most of them owning one vehicle. Two of London Transport's experts, Mr. A. E. Flack and Mr. E. S. Ashton, have recently visited the city of Gibraltar to offer advice on the co-ordination of bus services.
.Their proposals include the introduction of six routes, of which the longest will be .4,550 yds. They have also made suggestions covering the most suitable ticket machines, uni forms, vehicles, stopping places, terminal points, and advertising, and plans for a garage have been worked out.
Many difficulties exist in the introduction of a co-ordinated system. The roads are at various levels and are built into the side of the rock. To connect with different bus routes, passengers sometimes have to go by way of steps cut into the rock.
" C.M." AT &LE.
" THE COMMERCIAL MOTOR " will be exhibiting on the stands of Temple Press Ltd at the -British Industries Fair in London and Birmingham, from May 5-16. At Olympia, London, it will be found on Stand No. 1089, and at Castle Bromwich, Birmingham, on Stand No. C.708.
TYRE PRODUCTION UP
REPLY1NG to questions put in the House of Commons last week on the shortage of 34-in. by 7-in. and 32-in. by 6-in. tyres, Mr. J. Belcher, Parliamentary Secretary to the Board of Trade stated that production of the former size of tyre was, at the end of 1946, three times higher than before the war.
LONG SERVICE REWARDED
PRESENTATIONS to several longservice members of the staff were made by Mr. Walter Hammond, a director of the Marsham Tyre Co., Ltd., at a social event recently held by the
company near Bristol. The occasion was the company's victory celebration.
Mr. H. E. Pope, managing director,, said that the spirit of Marsham would successfully battle against the frustration that was felt in the industry.
SIX NEW ROUNDS OF AMMUNITION
USEFUL material . for speakers against nationalization is contained in six pamphlets which have been issued by the Road Haulage Association,
Pamphlet No. 1 deals with the ownership of the road .transport industry, No. 2 with the effect of the Transport Bill on hauliers, No. 3a with the position of the trading community under nationalization, and No. 4a with the plight of the agricultural community.
Pamphlet No. 5, which will deal with compensation, has not yet been issued. No. 6 is concerned with legislation by half-truths, and No. 7 deals with the likely general effects of the Transport Bill.
Nos. 3a and 4a are revised versions of two pamphlets published previously. Copies may be obtained from the R.H.A., 146, New Bond Street, London, W.I.