UNIONS IGNORE GOVERNMENT WHITE PAPER. " TT seems paradoxical that the Unions I should put forward these demands at
2nd May 1947
Page 28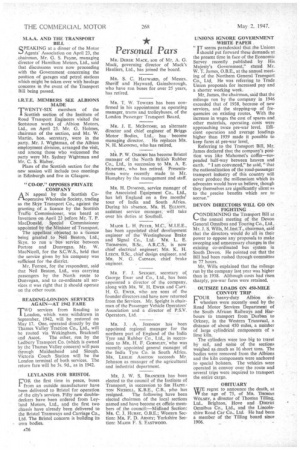 Page 28, 2nd May 1947 —
UNIONS IGNORE GOVERNMENT WHITE PAPER. " TT seems paradoxical that the Unions I should put forward these demands at
Close
the present time in face of the Economic Survey recently published by His Majesty's Government," stated Mr. W. T. James, 0.B.E., at the annual meeting of the Northern General Transport Co., Ltd, He was referring to Trade Union proposals for increased pay and a shorter working week.
Mr. James, the chairman, said that the
mileage run by the company in 1946 exceeded that of 1938, because of new services, and the stepping-up of frequencies on existing routes. With the increase in wages the cost of spares and. other materials, operating costs were approaching twice pre-war level. Efficient operation and average loadings higher than 1939 made it possible to keep fares at pre-war level.
Referring to the Transport Bill, Mr.
James declared that the company's position was like Mahomet's coffin—suspended half-way between heaven and earth. "I am convinced," he said, "that the nationalization of the road-passenger transport industry of this country will never produce the millennium which its advocates would have us believe, though they themselves are significantly silent as to the precise benefits which are to accrue."
DEVON DIRECTORS WILL GO ON
_ FIGHTING rONDEMN1NG the Transport Bill at
the annual meeting of the Devon General Omnibus and Touring Co., Ltd., Mr. J. S. Wills, M.Inst.T., Chairman, said that the directors would do all in their power to oppose any proposals to make sweeping and unnecessary changes in the existing co-ordinated bus system in South Devon. He pointed out that the Bill had been rushed through 'committee in 77 hours.
Mr. Wills explained that the mileage run by the company last year was higher than in 1938. Although costs had risen sharply, pre-war fares were retained.
. OUTSIZE LOADS ON 450-MILE CONVOY TRIP
FOUR heavy-duty Albion sixwheelers were recently used by the Road Motor Services Department of the South African Railways and Harbours to transport from Durban to Orkney, in the Western Transvaal, a distance of about 450 miles, a number of large cylindrical components of a lime kiln.
The cylinders were too big to travel by rail, and soine of the sections weighed as, much as 16 short tons. The bodies were removed from the Albions and the kiln components were anchored to special bolsters. The vehicles were operated in convoy over the route and several trips were required to transport the entire cargo.